The month of September welcomes one of the most fantastic, largest festivals of its kind in Southwest Florida. Island Hopper Songwriter Fest is a 10 day event with performances (mostly free) scheduled on Sanibel Island, Captiva Island, Fort Myers and Fort Myers Beach.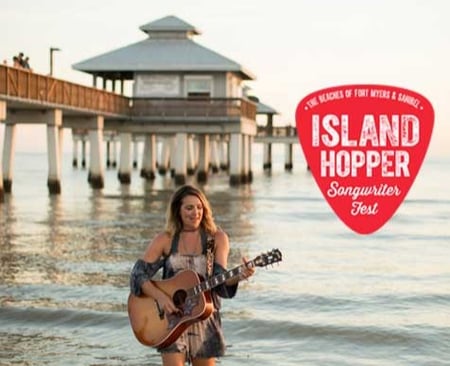 How often do you have the opportunity to be among the first to hear a new hit song? Lyrics penned by seasoned song writers, collaborative works and brand new talented word-smiths, prepare to be amazed! With more than 80 artists, 100 shows and 20 unique and colorful venues, odds of meeting some of these uber talented and creative geniuses are in your favor. Coming from all over the US these artists are as unique as the music they write. Some of Nashville's greatest will make their debuts. Many are from right here in our own backyard. Sheena Brook, Caleb Neff and Ayla Lynn are just three of these dynamic forces.
Visit www.island-hopper.fortmyers-sanibel.com for schedules, tickets and more information.
In this world are inventive word wizards, entertainers who give voice and personality to the music they gift us. Music is a celebration and mating of words to form feelings from laughter and sorrow to romance and memories, from thought provoking, spirituality and nostalgia. Music is part of us from Happy Birthday to Amazing Grace. Who could imagine a world without! Just like a great book, songs tell stories that invoke memories everywhere from your first best friend, broken heart or puppy, bourbon swillin' grandma, high school prom, wedding day or first kiss and even things like breaking up, making up and throwing up.
Songwriters are the bones. The Bones that are foundation for the voices and personalities that bring it to life.

Be sure to read the bio's and check the schedule of performances and get there early for the shows you want.
Visit www.island-hopper.fortmyers-sanibel.com for schedules, tickets and more information.
Features Artists for the 2019
Island Hopper Festival include
Gone West - Friendship and lovely harmony combined give this band its special sound both soft, sweet and folksy and a delight for the ears. Four individually talented artists came together first as friends and after time 2 happy couples emerged. They complement one another perfectly and will positively be a Hopper highlight!
Kristian Bush - One half of Sugarland, Kristian's had an impressive 20+ years in the world of country music. Singing and songwriting are just 2 of Kristian's gifts. He has won 6 BMI awards…. so far, is a producer, playwright, podcaster and more. His music is super fun, and it make listeners ponder. A favorite lyric of many, from the song titled "Trailer Hitch", refers to the ability to take wealth with you when you die… " Never seen a hearse with a trailer hitch"
Ryan Hurd - Ryan is a prolific song writer whose music had been delivered to us by artists like Blake Shelton, Lady Antebellum, Dierks Bentley, Jake Owen, Tim McGraw, Rascal Flats, Maren Morris, Florida Georgia Line, and many more. He has a personality that relates to people and the ability to express it with panache plus!
Jerrod Nieman - An American patriot through and through. Jerrod demonstrates dedication through self-described, 100% love and zero % politics. The poetic and moving lyrics in his song "Old Glory" touch a very deep place. Whiles Jerrod's music stands alone he performs, headlining/touring with some amazingly hot Country acts like Dierks Bentley, Brad Paisley, and Keith Urban.

Rodney Atkins - Platinum songs penned by Atkins are undoubtedly favorites of country music fans world- wide. "Watching You", "Cleaning This Gun", "Farmers Daughter", "It's America" and "These Are My People" are only a few examples of Rodney's work. With instinct, ability and natural talent he is a force fans hope will produce for decades to come!
Island Hopper Venues
Captiva Island

Cantina Captiva - A fun and funky island atmosphere serving Mexican, Southwest and Chef's creations, homemade guacamole and delightful margaritas. A place where guests adore music and the outstanding island vibe!

Doc Ford's Captiva - Named for the main character of local writer, Randy Wayne White. "Doc Ford" is a retired marine biologist and ex spy …. An interesting technicolor character. Doc Ford's Rum Bar and Grill is essentially an exceptionally nice bar with excellent properly prepared gourmet bar food plus, a wonderful venue for entertainment.
Key Lime Bistro - Located smack dab in the middle of Captiva this quirky island favorite serves all three meals. Look for menu selections featuring…. You guessed it, Key Lime! Stop and indulge in succulent sounds and sustenance!
Mucky Duck - Established in 1976, this pub and eatery inspired by the pubs of England was born in the heart of Captiva. Consistent in menu quality and service and nice, cold and tall libations. Great place for sensational music and a breathtaking sunset!
RC Otter's - The place to wake up to with a HUGE breakfast selection…. Home of the ultimate seafood omelet with blue crab and pink shrimp! RC's is the epitome of island color. Serving morning, noon and night with entertainment 7 days a week. Be sure to get plenty of photos with this place in the background!
South Sea's Island Resort - If southern island style and sophistication beckon you, South Sea's has everything you could dream of. Peaceful luxury, tennis, golf, spas, water activities, shopping, fabulous dining options, entertainment and pristine beaches. This is a decadent venue for enjoyment of music you'll be among the first to hear.
'Tween Waters - T'ween Waters, aptly named as visitors are literally between water bodies. Fun activities of every kind, eclectic accommodations and island dining options with entertainment. This is a regular vacation choice of the discriminating!


Downtown Fort Myers / River District

Social House - NYC SoHo eco-friendly garden bar with inspired atmosphere including, street food, craft cocktails, local brews, wine on tap, locally sourced food and libations draw guests for daily entertainment and delicious nourishment, even options for vegetarians!

City Tavern - Great ladies night and happy hours, friendly comfortable atmosphere, nice gastro pub options including a vegan queso and interesting flatbreads. This River District hot spot, locally owned for 20 years is the place to be for daily specials, Thursday thru Saturday night entertainment, Monday night trivia and more!
Florida Repertory Theater - Award winner and one of America's top of its kind according to The Wall Street Journal. The Florida Rep, located in the Historic Arcade Theatre, produces a variety of genres including comedy and drama as well as musicals. The Florida Rep consistently makes national headlines. No visit to Historic Fort Myers is complete without scheduling a show at this very special theater.
Pincher's Crab Shack - Located at the Marina at Edison Ford, Pinchers is a fish dock to table restaurant that offers a wonderful variety of fish and seafood possibilities which is likely the most sought after dining option on Florida's Gulf Coast. Their motto, "You Can't Fake Fresh" "lure" visitors by the "bushel" (pun intended). This is a delightful waterfront location for enjoying food, friends, cocktails and entertainment!
The Barrel Room - Possibly the Baskin & Robins of whiskey, offering 40 hard to find bourbons! Located in the Fort Myers Historic River District, This intimate venue for entertainment with limited seating is very nicely appointed. Adjacent to the Twisted Vine Bistro it is a cozy after hour's venue for relaxing with a beverage and well selected entertainment. Late night small plates are the ideal accompaniments for a relaxed evening of indulgence.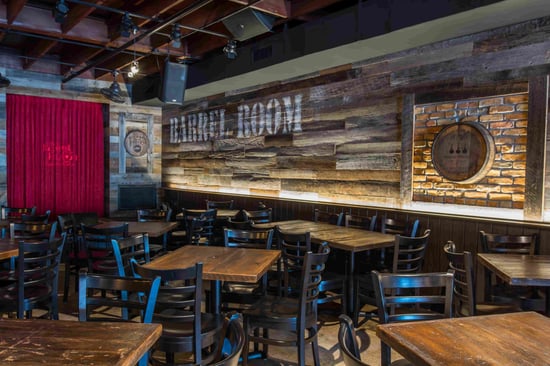 Twisted Vine Bistro - This bistro is the perfect pairing for an evening of art (The Florida Repertory Theater, Sydney Byrne Davis, and The Barrel Room), wine and culinary temptations. Featuring boutique wines and more than 30 different wines by the glass! Epicureans delight in selections for the most discerning palate, creations that are savored by guests from our local communities and from around the globe.


Fort Myers Beach

Cabana's at Diamondhead - Cabana's, located on the ground Level of DiamondHead Beach Resort, nestled by the sparkling, lushly landscaped pool overlooking the Gulf of Mexico is the ideal place for delicious frozen tropical fruit beverages and music that will "Take You Away"! Tasty bar menu items are just the ticket to complete the perfect island experience!
Lighthouse - At the foot of the Matanzas Pass Bridge, The Lighthouse Resort is the colorful home to the locally famous Lighthouse Tiki Bar. A true local's place where old friends make new friends on "Island Time". The world famous place where the fun never ends offer daily specials, fruity drinks, entertainment and delicious AND affordable pub grub, plus the ever popular 32 ounce Bacardi bucket. Don't miss Monday Happy Hour!
Matanzas on the Bay - Boasting both best view in Southwest Florida and the best pizza on the island, Matanzas has been a go-to since 1984. Music every night on Petey's Upper Deck and a superb menu keep-em coming back time and again.
Nervous Nellies - Nervous Nellies…. How to even begin??? Simply visiting the website is a fun experience! Vibrant, eye-catching, flamboyant, flashy….. this would be a start to be sure. At N.N. the menu is HUGE and the portions are HUGER! This is a place you don't want to miss. Island Hoppers, watch the event schedule for local artist and witty personality Sheena Brook.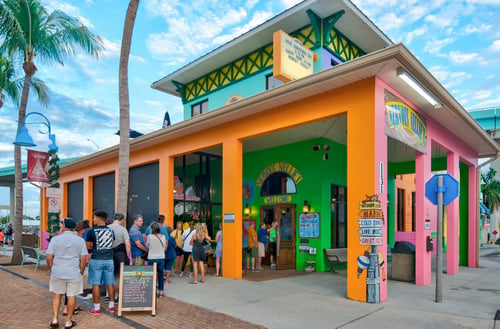 Pierside Grill - If being on the beach is a required part of your experience this may be the place. As far as location, and toes in the sand it doesn't get much better. Most will not dispute, the beach bread is the best around and the beer is cold! This stop along the trail is a must do for 2019 Hoppers.
Pink Shell Beach Resort - Indisputably an island gem. Conde Nast top traveler resort winner and TripAdvisor Hall of Famer, Pink Shell is a demonstration of Southwest Florida charm, personality, luxury and adventure all wrapped up with a bow! If visitors haven't booked yet they'd best get a move on!
Yucatan Beach Stand Bar & Grill - Yucatan, an island favorite has an atmosphere guests find irresistible. Serving 3 meals a day with terrific happy hours and entertainment make this a "complete Fort Myers Beach experience" The website alone make visitors mouths water and bellies growl.


This Musical Magical Event is brought to us by: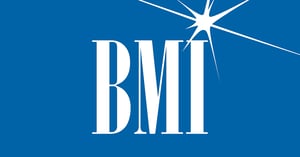 1939 marks the birth of BMI. Coordinators, organizers, advocates, guidance givers and nurturers joined together to become what is now an enormous global leader in bringing us the music that fills our homes, cars, iPod, streaming in our offices, favorite bars, restaurants, hangouts and generally everywhere we go.
BMI bring together some of America's best writers and artists with businesses who play their works. In the United States and internationally BMI is "THE" music rights organization.
Writers, composers and publishers use the tools of BMI to build and maintain successful careers in an industry where organization, direction and structure are the much needed glue for the magic to be made and as importantly, HEARD.
BMI sponsor workshops to help artists with their careers and they help with copyright protection and ensuring artists, writers, publishers and composers are fairly paid. Workshops are held in the cities that occupy BMI offices such as Nashville, Atlanta, New York, Los Angeles, Austin, Puerto Rico and even London.
Songwriter's festivals feature many genres, not only country however that is a big component. Festivals are where so many Nashville greats got the jump-start for career's that exploded. Songwriter's festivals are held all over the US from Florida to Hawaii. Florida is home to an astonishing number of the musically gifted and creative.
Country, Pop, R&B, Jazz, Latin, Rock, Rap, Classical, Gospel, Theatrical, you name it, BMI's got you covered.
BMI represent artists from Lady Ga Ga to Eminem, Dolly Parton, Taylor Swift, Red Hot Chili Peppers and Linkin Park. Countless Grammy nominees and winners have been nurtured and blossomed and prospered with the watchful eye and warm hand of BMI. Carlos Santana, the Dixie Chicks, Busta Rhymes, Barry White, Kid Rock and Britney Spears are a few more examples of the enormous variety of gifted entertainers that have been held under the wings of BMI.
New artists are protected and provided opportunities in songwriter festivals, and we are given the great opportunity to get a sneak-peek at voices we'll all be downloading!

While it may be hard to decide which day to choose, a day trip or more, may be just what the Dr. ordered during your musical getaway. Or if you're already on "Island Time" in Key West, plan your escape now.