Land originally a Native American Calusa settlement hundreds of years ago, became home to the original fort of Fort Myers housing soldiers in the mid-1800s. In 2003, after a long history the past was blended with the future by restoring the building to its original magnificence, while creating a modern arts facility. Today, the Sidney & Berne Davis Art Center in downtown Fort Myers continuously strives to provide world-class arts programming and events to the community and is host to a broad range of events that include film, fashion, music and art.
The 4th annual "Smoke on the Water" BBQ competition and music festival will take place at the Fort Myers River Basin beginning April 28th at 6:00pm through April 29th at 10:00pm. Referred to as the Tastiest Festival on the River, the tradition is sure to grow year after year with the temptation of some of Florida's best BBQ cooks and musical entertainment for any age!

From sweet, smokey, spicy, moist and tender, this contest will be the perfect temptation for every foodie. Each contender prepares BBQ from 4 categories including Chicken, Pork Ribs(bone in), Whole

Pork( butt, shoulder or picnic) and Beef brisket. There are strict rules the contestants must follow…. but we would love to find out how you get to be a judge!

This free community event welcomes barbecue cook teams from across the South who compete each year. Smoke on the Water Barbecue Competition & Music Festival offers authentic craft barbecue, beer, and bands! Children love the Kid Zone!

Friday Night
Sheena Brook will perform on at 6:00pm
&
The Nowhere Band at 8:00pm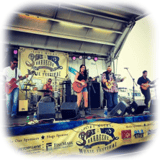 Saturdays Performances Include
The Blu Tones at 2:00pm
Strange Arrangement at 4:00pm
The Electric Mud at 6:00pm
Memphis Motown Experience at 8:00pm

Looking for great BBQ in the Fort Myers area?
This is an event you won't want to miss

Are you planning on visiting the Fort Myers area to attend Smoke on the Water?
You're in luck! As a special promotion offer on April 28 & 29th, use the promo code XWS and stay at the Courtyard Marriott for only $72 per night. Click the link below to reserve your room.