This could be your commute to Key West
If you pick the wrong way to get there!!
With Key West Express, we can get you to Key West faster and easier than driving. Just sit back and relax. We got this.
Imagine sailing through the majestic waters of the Gulf of Mexico as our luxury, high-speed, jet powered catamaran slices though the waves on your trip to Paradise. No worries about traffic, long hours of driving or finding a place to park (not to mention that parking is extremely limited AND expensive), we take all that away.
Or imagine this nightmare!
From the Southwest Florida coast, driving, means a harrowing commute down I-75, changing to US-41 for the long, 2 lane drive across the Tamiami Trail to just outside of Homestead. (Yep, you just drove from the West Coast of Florida to the East Coast). Then you're driving straight south into Key Largo, the first of the Florida Keys, 43 to be exact. Along this island chain, there are actually signs that say " PATIENCE PAYS ONLY 3 MINUTES TO PASSING ZONE " and you'll come across these a number of times. Once you're on Key Largo, your real adventure begins. US-1 is basically a 2 lane road for the rest of the drive and you're still more than 3 hours away from Key West and the infamous Duval Street. Crossing 43 islands, over 42 bridges is the infamous Overseas Highway. Now, if there is a wreck or mishap on the road, US-1 turns into a gigantic parking lot. Since there are no other ways to get through the Keys, you are stuck. Emergency vehicles will also be stuck in the same traffic jam, trying to get to the scene.
Add to the drive time, any breaks for food / gas or "natures necessities" and you're already making a long drive, even longer. Once you get to Key West you have the problem of finding a place to even park your car. Resorts have very limited parking available, if any at all, and can cost upwards of $25 per day, just to park! Almost all side streets are designated for resident parking only. So, don't park there or you will get a parking ticket.
Driving Times from the west coast of Florida:
Naples - 4.5 hours

Fort Myers - 5 hours

Sarasota - 6 hours

Orlando - 6.75 hours

Tampa - 7 hours
Now, once your vacation is over and it's time to head home. GUESS WHAT? It's time repeat the whole trip over again, but headed the other way! What a fantastic end to a perfect Key West Island getaway. NOT!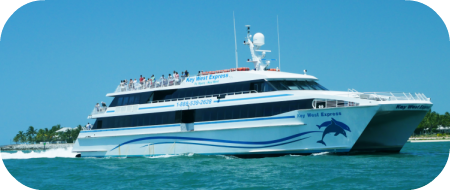 In just about 3.5 hours, we can get you from either of our 2 ports in Southwest Florida (Fort Myers Beach or seasonally from Marco Island) to Key West. Your getaway starts the minute you step on-board. Food and drinks are also available, if you feel the need to quench your thirst or stave off hunger for the fantastic delights you'll find on the southernmost island.
Once you get to the island, you'll find that many of the hotels, resorts or B&B's are within walking distance. But, if you prefer you can take a traditional taxi/Uber, a pedicab (think rickshaw, but on a bike), moped or rent an electric car (more like a dune buggy though). In just a few short hours, you'll have an umbrella drink in hand and wondering why you didn't do this sooner!
Book your ESCAPE now!
Or if you'd like to get our monthly newsletter, please fill out the form, below.