This could be your commute to Key West
If you pick the wrong way to get there!!
With Key West Express, we can get you to Key West quicker and easier than driving. Just sit back and relax. We've got this.
Imagine sailing through the majestic waters of the Gulf of Mexico as our luxury, high-speed, jet powered catamaran slices though the waves on your trip to Paradise. No worries about traffic, long hours of driving or finding a place to park (not to mention that parking is extremely limited AND expensive), we take all that away.
Driving Times:
Naples - 4.5 hours

Fort Myers - 5 hours

Sarasota - 6 hours

Orlando - 6.75 hours

Tampa - 7 hours
And that doesn't include stopping for gas, eating or bathroom breaks... You could easily add hours and waste a full day just getting there. THEN you have to do all that driving, just to get back home! ! !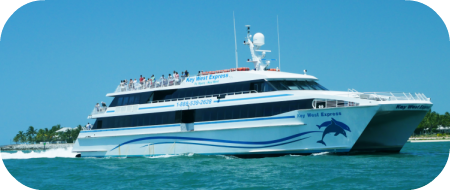 In just 3.5 hours, we can get you from either of our 2 ports in SW Florida (Ft Myers Beach or seasonally from Marco Island) to Key West. Your getaway starts the minute you step on-board. Food and drinks are also available, if you feel the need to quench your thirst or stave off your hunger for the fantastic edible delights you'll find on the southernmost island.
Book your ESCAPE now!

Or if you'd like to get our monthly newsletter, please fill out the form.