101 Things To Do In Key West Ebook!
Free Key West Activities Ebook - Your Guide To All Things Key West!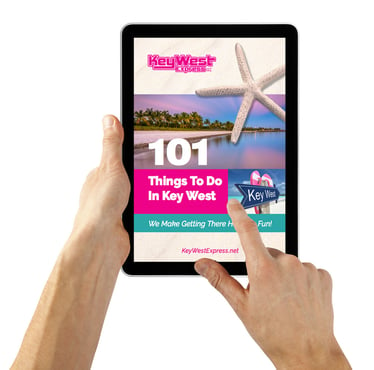 While Key West is a relatively small island, there's an ocean of things to do! Because of this, it can be hard to plan out your itinerary with so many great activities available. We can help! Use this FREE ebook, 101 Things To Do In Key West, to narrow down your choices. Whether you're a seasoned Keys traveler or looking to make your first trip to Key West, there's something for everyone! Simply fill out the form to receive your free ebook.
You'll find tons of information on:
Tours

Museums

Water Activities

Shipwreck Dive Sites

Sights To See & Things To Do

Events

Legendary Restaurants & Bars

Stunning Beaches

101 Things Island Checklist
After you've found the most wonderful things to do, see, eat or stay at, make sure that you come back here and get your reservations to the southernmost island, getaway Key West. We have high speed ferries that whisk you from the SW Florida coast to this carefree, haven of the laid-back, care free lifestyle that you'll ever find. Just head back to our main home page and click on that BOOK NOW button and you'll be in heaven before you know it.