The Fort Myers Beach Fishing Pier - Currently Closed!
With seven miles of sand spanned across Fort Myers Beach, there's plenty of things to do in southwest florida with kids or without. Fishing, however, is perhaps one of the most popular activities across this coastline— and the Fort Myers Beach Pier is a great spot to do it.
The pier extends 560 feet into the Gulf of Mexico, offering a view of the neighboring Sanibel Island. Here, anyone can fish. Rent a rod and reel from the Pelicans Pitstop for only $10. Fishing licenses are required in Florida, but here the pier has a state license for all fisherman and ladies. You can also get snacks, drinks and souvenirs there. Close by are also a number of fantastic restaurants to satisfy that hunger, after reeling in that world record catch.
The pier has a shaded area to get you out of that Florida sun, which if you aren't careful can quickly sunburn, as well as plenty of seating to relax upon, while waiting for that nibble. You can also watch pelicans fly around and even dive into the waters to get their daily lunches or dinners. But, be careful on reeling in your catch, as the pelicans will try to take it away from you.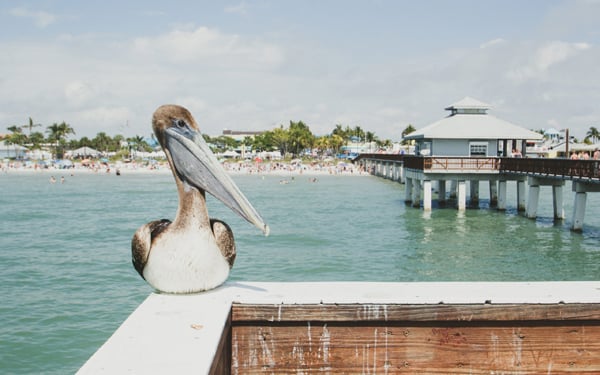 Park nearby or hop on a trolley to explore the surrounding shops and restaurants, and make a day out of your visit. There's nearby showers, a playground, covered picnic areas and kiosks with information about the area to continue your adventures.
After a day having fun, fishing. You might want to experience some of the other great things to do in the area. the Edison and Ford Winter Estates are not too far away and the Ding Darling National Wildlife Refuge is just one island to the north, on Sanibel Island.