Temporarily Closed
From Boat to Plate, it doesn't get much better than this....
The Original Shrimp Dock Bar & Grill is a Florida style seafood restaurant featuring delicious signature shrimp dishes, served in a casual atmosphere with stunning views of the Back Bay.
Enjoy waterfront dining at its best with "Boat to Plate" seafood favorites. Ever had escargot? How about Shrimp-Cargot!! Shrimp Beach Bread? Or Island favorites Mojo Marinated Wings. And that's just the appetizers.
Here on Fort Myers Beach, we also do Sunday Morning "Church", just a little bit different and it's no different here. Enjoy $1 Bloody Mary's or a jazzed up Bloody, with Shrimp and all the works, for just a bit more. Grab a bite to eat and enjoy the sights of this fantastic waterfront venue.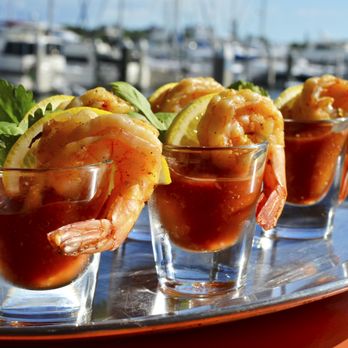 In the winter months, you can also enjoy "State Days" for you Midwesterners. Be sure to check their site or give them a call, to find out what day your state is being celebrated.
Right in the heart of Fort Myers' historic shrimping fleet. The building that houses the restaurant in-fact was one of the first "modern" seafood warehouses on the island. Here they made ice and would pump it out the docks to the awaiting boats, before they left the docks for the fishing or shrimping grounds.
If you're looking for a bite to eat after your return from Key West, simply make a right out of our parking lot and go down about 400 or 500 yards and look to your right and you're there!
Click or tap for more information on the Original Shrimp Dock.