Spend More Time in Key West and Less Time in Line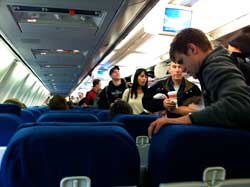 Who wants to spend hours waiting in lines, dressing just so you can get through the line a few seconds faster. Packing little tubes of toothpaste and bottles of mouth wash. Battling crowds in the terminals to get to your gate only to wait in line again to be packed like sardines in the airplane. Sitting one on top of the other you're given a tiny bag of old, stale pretzels. Finally arriving at your destination you are forced to repeat the same steps, to get off the plane and to your hotel.
Then, there's the COST!! Even in the off-season direct flights from Fort Myers can cost upwards of $500.00 Per Person, round-trip... Plus the extravagent rates charged for airport parking and baggage. For what you'd save on the Key West Express you could stay in Key West an extra night!
NOW... imagine you're stepping aboard a luxury, high-speed, jet powered catamaran; you decide which of 3 decks you'd like to sit on (YES, no assigned seats) then go exploring the vessel (NO, we don't strap you in and make you sit). Get up, wander about, make new friends, grab a cocktail from the bar and bite to eat from the galley.
While you're sipping on that tropical cocktail, enjoy the warm ocean breezes as you gaze out on the beautiful Gulf of Mexico waters; your vacation has already begun. You're on your way to the island of Pirates, Presidents, Poets and Partygoers. Lush tropical gardens, museums, historical homes and Civil War era forts to explore and discover the rich history that is Key West AND more.

Click for more information on the Key West Express and how to book your fantastic Island getaway, just fill out the form and you'll receive our monthly newsletter, all about Key West, as well as upcoming specials and discounts. Or if you're ready to take next step, then click the button and book your stress free get-a-way!