Enter promo code "

LOBSTER

" for

$10 OFF

travel between

August 8th - 15th

*

at Check Out

!
Whether you've been cracking shells your whole life, or are new to chasing tails, Key West Lobster Fest is a great way to experience these Florida favorites! Lobstering fanatics may not agree on the best way to serve a Spiny Lobster, but they all do agree on one thing:
You have to grill it.
Save the boiling pots for their Maine relatives. Check out this recipe from the Florida Department of Agriculture for a great way to serve up those tails!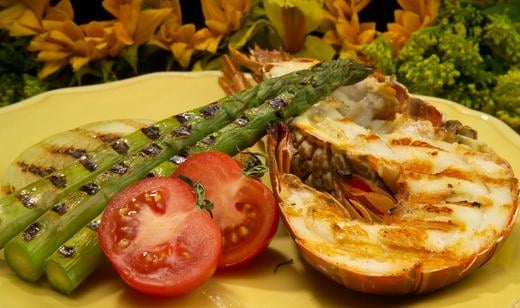 Ingredients

1/2 Cup Butter, Softened

1/4 Cup Olive Oil

2 Large Shallots, peeled and quartered

4 cloves garlic, peeled and halved

1 teaspoon cayenne pepper

salt

black pepper, freshly ground

4 whole Spiny Lobster, split in half lengthwise

Directions

Combine first 6 ingredients in processor and blend until almost smooth.
Spread one HEAPING teaspoon seasoned butter over each lobster tail.
In a small saucepan, melt remaining seasoned butter; keep warm.
Grill lobster tails, shell side down, 6 minutes.
Turn over and grill until meat is opaque in center, about 2 minutes.
Serve with melted butter.
Recipe from Florida Department of Agriculture
* Promo code valid for travel between August 8th - 15th, 2016. Promo code applies to Roundtrip Adult and Senior Full Fare only. New reservations only.