Edison & Ford Winter Estates
The Edison and Ford Winter Estates is one of the most popular attractions of southwest Florida things to do. In 1885 Thomas Edison and his second wife, Mina, purchased the property to build a winter, vacation home on the beautiful Caloosahatchee River, encompassing 21 acres. Later to be joined by his good friend Henry Ford in 1916, who purchased the adjoining property. The property served as a retreat, from the north and was a place of rest and relaxation until his passing in 1931. Mina later deeded the property to the City of Fort Myers in 1947, so others could enjoy the property they so passionately loved. The improvements to the grounds have totaled over $14,000,000, over the years, to restore all of the structures to their original appearance, circa 1929. Hundreds of thousands have toured the grounds and have had the delightful pleasure of experiencing this historic home and grounds in all its glory.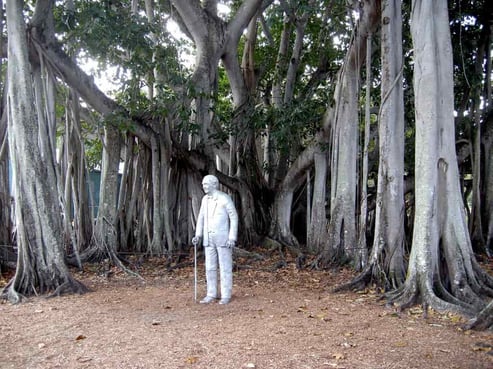 The Thomas Edison & Henry Ford Winter Estates boasts over 20 acres of botanical gardens, historic buildings, special exhibit galleries and Edison's Botanic Research Laboratory. The gardens host more than a thousand species of plants from all over the world The famous Banyan Tree that welcomes visitors to the Estates is the largest in the continental United States and one of Florida's most popular photo opportunities.
Visitors can explore more than 20 acres, filled with historical buildings, gardens, vintage cars and water shows. The museum offers the areas school children educational tours, summer camps, Throughout the year, the home is host to a number of specialty events; garden shows, classic car shows and the not to be missed Holiday Light show, that runs the month of December.
It is also on the National Register of Historic Sites, is designate as a Florida Historic Landmark and was awarded by the American Chemical Society, as a National Historic Chemical Landmark.
The Edison Ford Winter Estates offer self-guided tours, programs, and activities all year long.