Sanibel & Captiva Islands
Sanibel and Captiva Islands are truly a Gulf coast paradise. These two barrier islands offer excellent restaurants, accommodations, beaches, golfing, tennis, fishing, boating, shopping, bike paths, and the renowned J.N. "Ding Darling" National Wildlife Refuge & Bird Sanctuary as well as the Point Ybel Lighthouse which has guided seafarers to Sanibel Island's shores since 1884.
Sanibel is the largest of the two islands and sits to the south of Captiva and is one island north of Ft Myers Beach. It's host to a number of museums including the Bailey-Matthews National Shell Museum and the Sanibel Historic Village, not to mention a great many not for profits that education and animal welfare. The origin of the island's name varies and are as wild as the island's beginnings. With one being that it was so named after the first mates, of the infamous Gaspar the Pirate, lady love interest. It was then spelled "Sanybel". It was during 1884 that the Sanibel Lighthouse was constructed. Sanibel boasts 25 miles of paved bike paths and is gifted with great sandy beaches and an abundance of shells that make it world renowned for its shelling and the "Sanibel Stoop".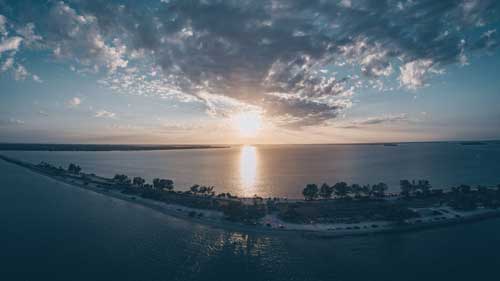 To the north lies the small and peaceful Captiva Island. The 2010 Census put the permanent populate at slightly over 500 persons. Originally it was part of Sanibel Island but a hurricane in 1926, carved out Blind Pass and created a new island. Again the origin of the name of the area is one for dispute. But, as with the naming of Sanibel, Captiva may have also been attributed to Jose Gaspar and that he had held a number of female prisoners on the island, that were awaiting their ransom payments. The first known permanent inhabitants were the Calusa Indians, that lived throughout the SW Florida area.
So, if your plans bring you to the area, either for it's shelling, environmental endeavors or it's long and interesting history. Plan for sunshine, glorious sunsets, cool evening breezes and an easy-going outdoor lifestyle that provides a perfect island vacation paradise. All this is just a short ride from the Key West Express ferry terminal.