Naples Zoo at Caribbean Gardens
Naples Zoo is a nationally accredited zoo that also celebrated its 95th year as a botanical garden in 2014. Nearly a mile of paved paths present a large variety of exotic animals surrounded by the mature trees and exotic plants of the famed tropical garden, one of the earliest plant collections in Florida.
The conversion to include a zoo started in 1967 when Jungle Larry and Safari Jane were looking for a place to house their collection of rare animals. Approximately 70 species of animal inhabit the zoo with many exotic animals including lions, giraffes, monkeys and bears. Throughout the day, the zoo offers events that highlight the animals and conservation.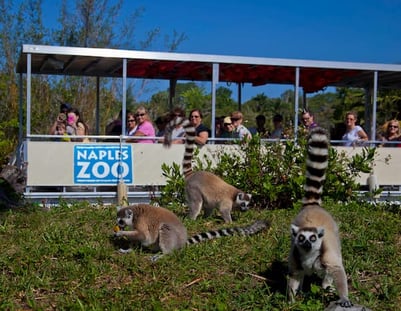 Primates call a man made lake within the zoo home and can be viewed by small narrated boat tour.
Still looking for some great things to do in the Naples / Marco Island area? Check this out!