Dry Tortugas & Fort Jefferson
The name "Dry Tortugas" comes from the island itself. When Ponce de Leon discovered the island, he was amazed by the amount of sea turtles in the waters surrounding the island, "Tortugas" means turtles in Spanish. Later, "Dry" was added to the name of the island to inform sailors that they would need to bring their own fresh water to drink.
Because of the large reefs surrounding the Tortugas, the U.S. established one of the most strategic harbors in it's history: Fort Jefferson. This remains one of the largest brick buildings in the U.S. with over 16 million, hand made, individual bricks.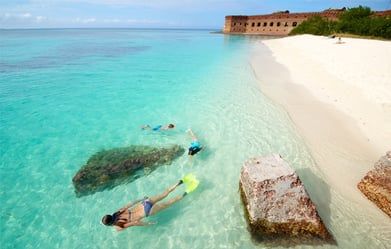 Following the War of 1812, a number of forts were built all along the eastern sea-coast of the U.S., as well as along the shores of the Gulf of Mexico. Fort Jefferson was just one of them. It was built in a six-sided, hexagonal shape to have a 360 degree view of the island and surrounding waters.
The Dry Tortugas currently possess one of the richest concentrations of shipwrecks in North America and is a popular fishing destination. Fort Jefferson is a national park offering some of the best snorkeling, SCUBA diving in North America. Visitors can take the Yankee Freedom III from the same terminal that the Key West Express leaves from, in order to experience the island.