Catamaran Echo Key West
Sailing Key West since 1989!
Their catamaran sailing charters are some of the best ways to see the part of Key West that most people forget about. Whether you're looking for a one of a kind snorkel trip, a couples getaway or to take in one of the best sunset cruises in all of Key West.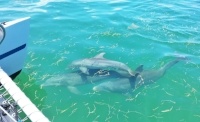 Wild Dolphin, Sail & Snorkel Adventure - booked by the seat(public) - a full 1/2 day experience (4 hours) with a small group on a large, roomy sailing catamaran.
Key West Sunset & Moët - booked by the seat (public) - their premium Champagne Celebration Sunset Sail for 2 hours - small "adults only" group.
Sail and enjoy the best Champagnes, Wines, Beers and
Gourmet Cheeses and more, along with a great Key West sunset.
Private Charters - The ultimate social distancing. A private boat for you and your mates for a Private Day Trip to have the best day on the water or their famous Champagne Celebration Sunset Cruise with the best Champagnes, wines, beers, and Gourmet Cheeses.
Shaded and sunny seats for your entire group, along with their "Black Beach" trampoline sundeck. Includes tons of snacks, tropical fruit tray, soft drinks and premium beers and wines. See the official Echo website at DolphinEcho.com for complete information and direct discount Promo Codes! Echo is located on the Key West Harbor Walk, also known as the Historic Seaport District, just a few steps away from the Key West Express ferry terminal, and next door to the Half Shell Raw Bar. You can spend a few hours darting in and out of the numerous shops, boutiques and art galleries, in the area. Not to mention all the fantastic restaurants.
Whatever you choose to do on our tropical waters while in Key West, it's always best while cruising on Catamaran ECHO.