Fort Zachary Taylor State Park
It seems like history is around every corner in Key West. Just take a ride on the famous Conch Train and you'll see! One place you can go to get a big blast from the past is at Fort Zachary Taylor State Park.
Courtesy of Florida State Parks
Construction of this pre-civil war fort began in 1845 and was used by the Union army to help with the blockade of the eastern Gulf of Mexico. Part of the construction also included the Martello Towers, which are just a mile or so away and it also a fantastic place to visit. Fort Jefferson, now part of the Dry Torugas National Park, was also built in the same time frame.
The fort was built on a platform of limestone and granite and its 5 foot walls, rose to approximately 50 above its surroundings. It could house up to 800 and had a battlement of 42 guns on three separate levels.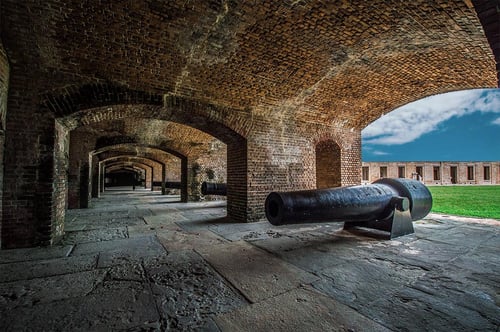 The land is now part of what is called the Truman Annex, home of the famous Truman Little White House.
Today, the fort is part of a beautiful state park with with a beautiful beach, picnic sites and more. There is an nominal entrance fee to the park, but it's well worth it. Walking inside the fort takes you back in time and you can't help but wonder what life was like for the soldiers that manned the cannons and kept a weather eye on the horizon.
Inside the park you'll also find a fantastic beach, picnic areas, walking paths and much more! We definitely recommend a visit the next time you're in Key West! After touring the fort, make sure that you also visit the Hemingway House, the Southernmost Buoy or the Butterfly Conservatory. All of which are in an easy walking distance.
Bikes and Walkers: $2.50 per person
Entrance Fees:
Vehicles: with 1 person: $4.50 with 2 persons: $7.00 additional persons: $0.50