CUSTOM HOUSE
The Custom House, a beautiful red brick architectural gem and award-winning museum is official headquarters of the Key West Art and Historical Society. Originally, this unique Richardsonian Romanesque structure was designed to function as Key West's customs office, postal service, and district courts. Today the Custom House museum features many centuries worth of art, history, iconic figures, and features a wonderful and eclectic gift shop.
The history of the structure dates back to the 19th century and due to the growing economy, that Key West developed. At this time there were roughly 500 residents that quickly grew to over 5,000. As Key West's designation as a Port of Entry for the US and the ever expanding trade, a more formal governmental presence was needed. As of 1882 the annual revenue of the island was more than that of every other port in the state of Florida, combined!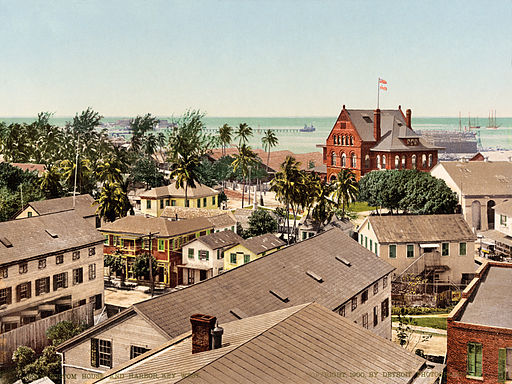 So, in 1885 the construction of the current customs house was authorized. And over the next 3 years the foundation was laid. Following this and in true Key West fashion, there was a dispute in the contract, as to who was to do what. The dispute all came about due to two of the principal individuals on the contract and their disagreement, during a night of heavy island drinking.
Officials in Washington, DC were notified and the construction contract was transferred to a local cigar manufacturer, who may have known how to roll a cigar, but didn't know anything about building construction.
Needless to say, that even with these and other difficulties, the Customs House was opened on 1891, at a total cost of just over $100,000 and that was still $30,00 over the original budget.
Through the years, the building housed not only the customs offices, but the district courts, a post office, lighthouse inspector and various other government officials, as well as personnel from the US Navy. Thousands of cases were heard in the courts here, from claims on shipwreck salvaging to rum runners.
From the western side of the island the Customs House is an unmistakable structure, with its bright orange brick-work. It stands just outside Mallory Square and across the street from the Mel Fisher Maritime Museum.