Babcock Ranch Preserve
Babcock Ranch occupies approximately 92,000 acres between Charlotte and Lee counties, in southwest Florida. The Ranch is named after Edward Vose Babcock, a lumber baron and then mayor of Pittsburgh, who initially purchased the land in 1914. Originally, the land was used for logging and agriculture, a practice that continues to this day with the funds going to the maintenance and operation of the Babcock Ranch Preserve.
The ranch was sold to the state of Florida in 2006, as the largest preservation buy in Florida History. Babcock Ranch Preserve is recognized as the largest tract of contiguous land in the state's history.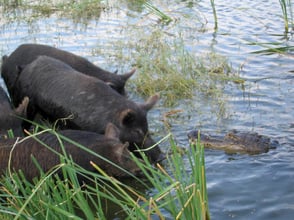 The Babcock Wilderness Adventure is a 90 minute buggy ride through several Florida Eco-Systems. This guided tour provides an opportunity to experience the fascinating and untouched natural Florida wilderness.
Babcock Ranch is breaking ground on the development of an 18,000 acre parcel to be the Nations' First Solar City! This one-of-a-kind town will focus on renewable energy resources, incorporating green technology into an every day lifestyle!