Babcock Ranch Preserve
Babcock Ranch occupies approximately 92,000 acres between Charlotte County and Lee County, in southwest Florida, not far from the Edison and Ford Winter Estates and other great area attractions. The Ranch is named after Edward Vose Babcock, a lumber baron and then mayor of Pittsburgh, who initially purchased the land in 1914. Originally, the land was used for logging and agriculture, a practice that continues to this day with the funds going to the maintenance and operation of the Babcock Ranch Preserve.
The ranch was sold to the state of Florida in 2006, as the largest preservation buy in Florida History. Babcock Ranch Preserve is recognized as the largest tract of contiguous land in the state's history.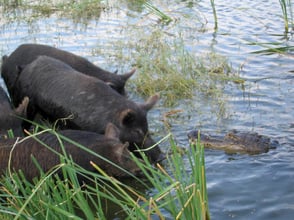 The Babcock Wilderness Adventure is a 90 minute buggy ride through several Florida Ecosystem and is one of the awesome things to do in southwest Florida with kids. This guided tour provides an opportunity to experience the fascinating and untouched natural Florida wilderness.
Babcock Ranch Florida itself is breaking ground on the development of an 18,000 acre parcel to be the Nations' First Solar City! This one-of-a-kind town will focus on renewable energy resources, incorporating green technology into an every day lifestyle!
Development of the area is a hub for clean energy innovation. and was envisioned to be a wholly self-contained community with nine separate but connected residential hubs. that could support upwards of 50,000 residents and almost 20,000 homes. It will contain retail, office and civic space, as well as home to shopping, restaurants, parks, entertainment and lodging. Further it is planned to be home to eight magnet schools, as well as a satellite campus to the Florida Gulf Coast University.
All commercial construction and residential structures must be certified as energy efficient. As you move around the community you will be amazed at the number and placement of solar panels, almost everywhere! So much so, that it will have its own solar power plant to store and distribute the excess power generated. Florida's most innovative resource is a giant Solar Farm. Welcome to the Sunshine State!
For more on this unique community check out their website!