Murder Mystery Dinner Train
The Murder Mystery Dinner Train provides a unique dining experience! Enjoy your adventure aboard the Murder Mystery Train, participating in a live interactive mystery show where you are the super sleuth, discovering "who done-it" while enjoying a five course culinary celebration for your taste-buds. This 3 and a half hour mystery experience will take you from Fort Myers and across the Caloosahatchee River and back, again.
Partake in a freshly prepared, full five-course dinner from a choice of different entrees, while enjoying a three and a half hour trip, forty mile trip through southwest Florida. The fun starts immediately upon you stepping onboard. This interactive, audience participation fun filled evening draws you into the action. You never know if you may be the victim, the main suspect or one of his accomplices.
They have two different shows running each week. With one of them on Wednesday, Thursday and Sundays and the other on Friday and Saturday nights. and there are new mysteries always being presented.
They also present "themed" shows throughout the year, for Valentines Day, St. Patrick's Day, Halloween, Christmas and many others.
Come and join in and attempt to sleuth out the hilarious ride into the comical means of doing away with your one of your railroad companions. You have to figure out the clues and choose for yourself who the murderer is. Are you up to the task?
Check out their website for days, hotel package's and the mystery of the day.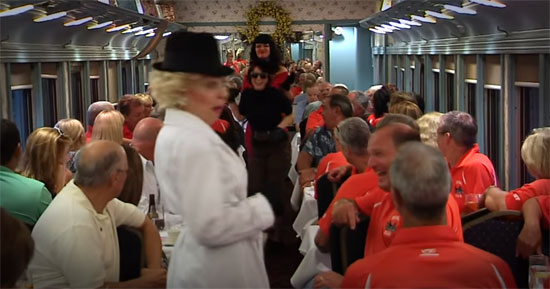 This is just one of the many southwest Florida things to do, while visiting the area. You might want to check out Babcock Ranch, in northern Lee County. It is the first solar powered city if the United States. Or possibly the Edison and Ford Winter Estates, as well.