Half Shell Raw Bar
Set in the heart of the Historic Seaport at the Key West Bight, the Half Shell Raw Bar is an authentic Key West fish house. Once a shrimp packing building, it has stayed true to its blue-collar harbor front heritage. Once you arrive at the ferry terminal, simply follow the boardwalk, along the water for about 100 yards and you'll be here.
Traditional Key West Raw Bar & great Key West seafood restaurant! Oysters, clams, shrimp, more! A low key restaurant for casual lunch or dinner. Settle down to an informal atmosphere, local characters, great bar and waterfront dining. It's a little piece of Old Key West on the historic Key West Bight.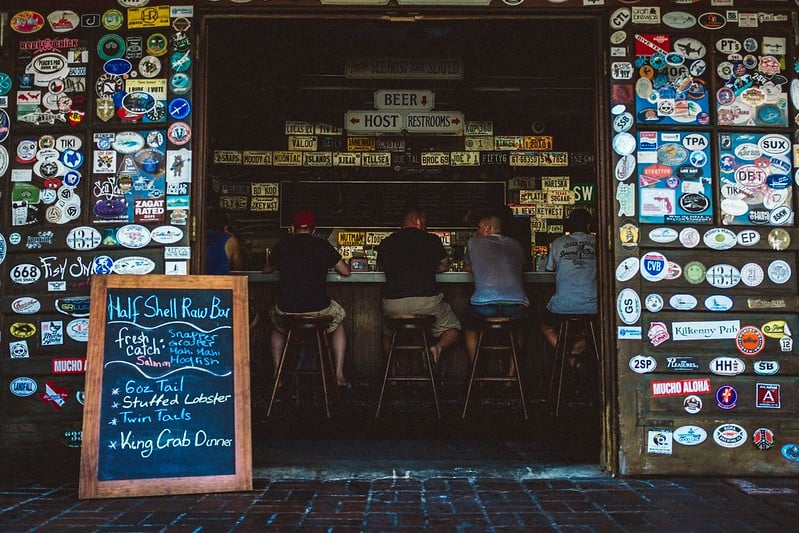 Photo Credit: Jack Wallsten - Flickr
When you go inside, you may even see the local fishermen, as they unload the days catch at the fish market. You can't get any fresher that that! The market here also supplies the kitchens of 5 other island favorites as well. Try the fish tacos at Island Dogs, a yellow-tail snapper ruben at the Rum Barrel or next door at Turtle Kraals.
So, grab a stool or sit in one of the many picnic tables, inside and enjoy. Raw oysters? Oh, yea! They have some of the freshest on the island and watch as they're shucked right in front of you.
Have you ever had fresh seafood that was simply "cooked" with lime juice? Yes, the acids in lime juice will act as a cooking agent and make for some of the most sumptuous seafood dishes you will ever have. Just order the ceviche and you will be all set for a mouthwatering delight.
Established as a restaurant in the early 1970's, it was originally a shrimp warehouse for the local shrimping fleet, before moving up the keys a bit to Stock Island.