Explore the ocean floor and see the underwater world with this unique State of the Art Underwater Scooter. Accompanied by professional divers on this 30 minute HydroBob underwater adventure, imagine if you took a SCUBA tank and strapped it to a full head covering, added a seat, diving bell and then put all that onto an underwater scooter. Now you've got the idea!
No SCUBA certification necessary. Just a bit of on-board instructions and off you go exploring. Even kids 12 and up can take in the fun.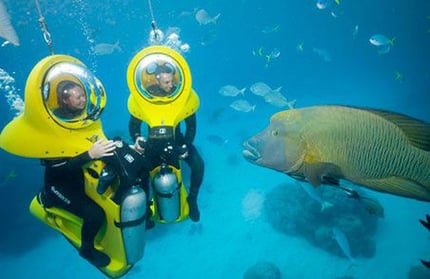 If a traditional free wheeling snorkel trip is more to your liking, Billy Ocean Underwater Adventures offers 3 hour snorkeling tours. Explore the reefs surrounding Key West, all part of the largest natural coral reef in the US, that stretches the entire length of the Florida Keys.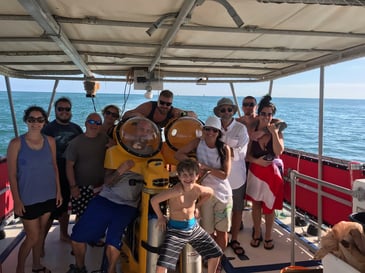 Or for something right in the middle is Snuba.... For this outing, its a bit of a cross (yep here we go again) between SNorkeling and scUBA diving. Your air supplycomes from the surface and is pumped down to you, to breathe and you use a traditional snorkeling mask. This gives you more freedom than the Hydrobob, to move around, but with a constant supply of air. But you can only go as far as your air hose!
If you prefer to have your fun top-side, they also offer a Sunset Cruise, with beverages included.
For those of you that are experienced on the water, you may want to rent your own boat, from them and explore at your own pace.
Be sure to make Billy Ocean Underwater Adventures part of your Key West memories. Click here website for information for details and to reserve your trip.
If you're looking or other things to do, in Key West. Make sure that you plan some time for the utterly strange and unusual Ripleys Believe It or Not museum, the Hemingway House or the nightly sunset celebration at Mallory Square.