Located in the heart of Key West's "new town", the Havana Cabana Key West's waterfront resort combines the nostalgic influences of Cuba with the eclectic character of Key West. When you arrive, you'll be greeted by a number of mid-century cars, like the ones still driven in Cuba.
Birds of paradise punctuate the lush outdoor landscape, and the sweet sound of Flamenco guitar can be heard poolside. Relax and unwind with a midday mojito or explore the town on a bicycle, our complimentary shuttle or vintage Vespa, as you indulge in the marriage of old Havana's soul and the playful nature of our island setting.
Whether you select to lounge poolside enjoying the colorful strumming of a Flamenco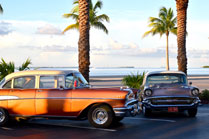 guitarist while grabbing a bite from the "Floridita" the permanent, on-site food truck or hop aboard one of the many island trolley's, that transport you to all there is to see and do on the Island, this is a one-of-a-kind unique lush escape from the ordinary.
Key West has captured the hearts and minds of many of those that have visited and claimed some of that charm, on their hearts. From novelists to artists, fishermen to divers and many others too numerous to list. With shipwrecks, downtown entertainment, crystal clear waters and many, many museums and attractions, Key West has something for everyone.
Reserve a room overlooking the largest pool on the island, or one directly on the beautiful Gulf of Mexico. All the rooms are beautifully decorated with nostalgic influences from Havana's Glory Days, but with all the comforts and amenities of today.
havanacabanakeywesthotel.com - 855-235-3912