Fresh. Simple. Mexican Food.
Skip the chain restaurants and come to Amigos Tortilla Bar instead, for carefully seasoned, handmade tacos. With corn tortillas made from scratch, freshly diced cilantro, pico, other fresh toppings and humble flavors, Amigo's redefines Florida's taco scene. This is especially notable when biting into their non-traditional square-shaped taco, which holds more with less spilling.
Chicken, beef, fish, vegetable— you name it, they make it. With burrito bowls, fajitas, enchiladas and more, they're the place to get classic Mexican in Key West. Don't forget to end with their Key Lime Pie, from Kermit's Key Lime Pie and Key West Key Lime Pie Company. We won't judge if you order another to-go.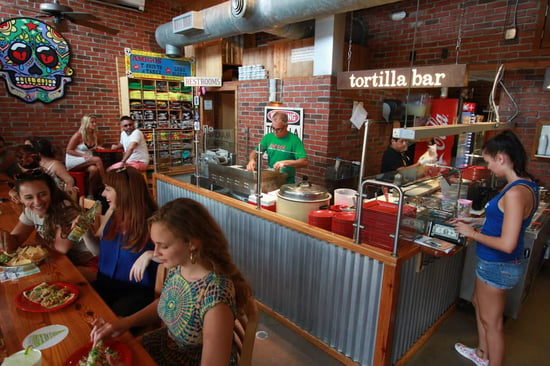 You might have noticed, above that they serve a "square" taco.. That's correct. They developed a machine that would make their signature taco. This bit if trickery is functional as well, as the shape allows them to put even more fillings inside and with less spillage when you eat them. And they're simply made, as well, with nothing more than water and 100% fresh ground corn. But, if you prefer the more traditional, you can get the traditional hard shells as well.
To find them, they are on Greene Street, just around the corner from Sloppy Joe's and across the street from Captain Tonys Saloon. After your meal, you can head on over to Mallory Square for the sunset celebration or down the road to the Mel Fisher Maritime Museum and even to the Truman Annex and Little White House. If taking home that special "found in Key West ONLY" item, then around the corner is the Kino Sandal Factory. They make men's, women's and kids sandals and we do mean make. They are all made right on the premises. Buy yourself a couple of pairs, they are the most comfortable sandal and flip flop that you'll ever wear and you will be hard pressed to every wear them out!