Sloppy Joes, originally located at 428 Greene Street relocated to their new location at 201 Duval Street 80 years ago, on May 5th, 1937!

The famous watering hole of Ernest Hemingway is a Key West tradition steeped in history. On May 5th, 1937 owner Joe Russell was told his rent would increase from $3.00 a week to $4.00 so he, along with bar patrons simply walked around the corner, drinks in hand and moved the furniture. The bar never closed for a moment!

Originally the bar opened (legally) on December 5th 1933, the day prohibition was repealed. Prior to that Joe, a charter boat captain, rum runner, friend, boat pilot and fishing buddy of Hemingway, ran the place as a speakeasy.

The bar originally was called the Blind Pig but was changed to Sloppy Joe's at the urging of Hemingway. In Havana, Jose Garcia, friend of Hemingway had a store selling liquor and seafood. The ice used for the seafood melted which made the floor a mess and earned his store…… jokingly, the name Sloppy Joe's. Russell and other patrons loved it and the name stuck.

Hemingway affectionately called his friend Josie Grunts, who he modeled the character Freddie in "To Have and Have Not".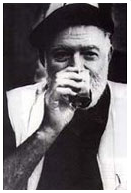 Back in the day there were pool tables and gambling in the back room. For around 2 decades there was a very large….over 300 pound black bartender named Skinner who kept a bat behind the bar to keep his customers in line. That very bat still hangs there today.

Sloppy Joe's is a must stop for Key West visitors and also a favorite place for locals. The menu which includes, of course, Sloppy Joes is American and Cuban influenced with a variety sure to satisfy anyone.
One of the most popular Key West bars, attraction and go-to for entertainment and events, Sloppy Joe's has a calendar on their website detailing scheduled entertainers and upcoming events.