The party atmosphere is always present in Key West, the ultimate place to ring in the new year. Key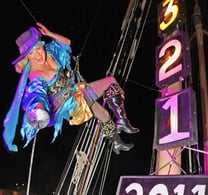 West is one of the few cities that is ALWAYS featured on the live national news feeds. There are certainly many reasons for its allure and popularity. First off it's WARM!!! Imagine welcoming in the new year wearing shorts and flip-flops…. You can't get any better than that!
Photo Credit: fla-keys.com
Then there's the choice of where and what to watch. In Key West there are four different and fantastical places. All within walking distance of one another, islanders go above and beyond the dropping of a lighted ball at midnight!
Whichever you fancy, an escape to Key West can get your New Year started off right and may it be filled with fun, laughter, good health and a fantastic TAN!! No matter what you're looking for. Be it over the top music sensations, a massive street celebration with a over the top Conch Shell or a drag queen in an oversized shoe, Key West has it all. Now go and make those New Years Eve Reservations, on board the fantastic Key West Express ferry.
Hero Image Photo Credit: Andy Newman/Florida Keys News Bureau/HO