Started in 2016, Captains for Clean Water is a grassroots nonprofit organization that fights to restore much needed Florida water resources. Committed to uniting the outdoor industry, environmental groups, business community and concerned citizens for the fight for clean water.
Captains for Clean Water works to advance science-based solutions through efforts focused on awareness and education, empowering people to speak up for our water quality, and most importantly, hold elected officials accountable.
THE FIGHT
The Florida peninsula is one of the most unique landscapes on earth, and features one of the most diverse ecosystems on Earth - The Everglades.
In the late 1800s and early 1900s, efforts to attract settlers to Florida led to the building of dikes and canals to block the natural southern flow of water through the Everglades. This created fertile farmland in areas south of Lake Okeechobee, which in turn attracted the big sugar industry. Phosphate-laden run off from the farms polluted Lake Okeechobee, with nowhere to go, the water was redirected into the Caloosahatchee and St. Lucie waterways, fueling massive blooms of toxic blue-green algae. This, as well as, the lack of fresh water flowing through the Everglades, has caused a radical decline in the native wildlife population, as well as massive seagrass die-offs, algae blooms and fish kills in the Florida Bay.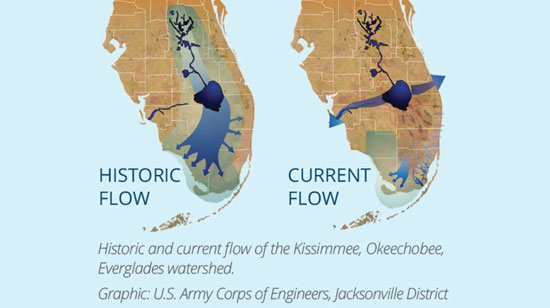 Photo Credit: CaptainsforCleanWater.org
Now, more than ever, we must fight to protect our valuable resources and our way of life for future generations. Captains for Clean Water works to educate the public and lobby our state and Federal representatives to take action on initiatives that will protect and restore the Everglades and Florida's waters.
You're invited to join the fight and help protect our way of life as well as help support programs to build the infrastructure needed to clean and send the water south to the Everglades once again.