Yes, you read that correctly! We've all been to or seen the typical "water park" that's evolved into a playground of water fun including oversized swimming pools, waterslides, water tunnels, wave pool and the requisite lazy river. BUT, this one is like no other anywhere!!
FURY in Key West has the ONLY certified OCEAN Water Park in the State of Florida. Yep, out in the open waters, surrounding Key West is where you'll find this playground of aquatic fun and frivolity for the fun lovers of all ages beyond your wildest imagination. The environmentally conscience folks at Fury have been mindful in developing this water adventure in compliance with the Department of Environmental Protection Standards.
If you want to get out on the water and have the time of your life, Fury can certainly get you started, with your best flippered foot forward. And...the best has just gotten bigger & getter with their new ocean water park expansion. In addition to the open water slides, floating obstacles and jumping/diving platforms, now you can jump, bounce, slip and slide to your hearts content throughout this floating fun-house and then climb back aboard to rest or relax in the Key West sunshine and recharge your batteries.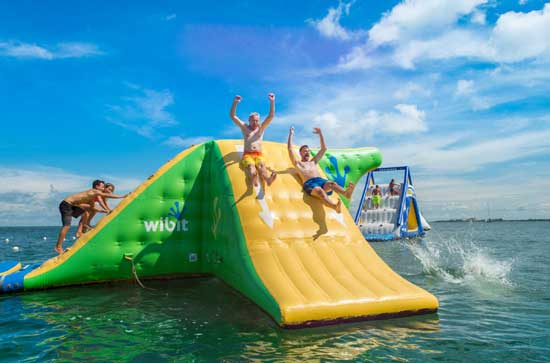 Snorkeling
Hop onboard one of their roomy, catamaran sailboats and head out to the only living reef system in North America. If you've never snorkeled, not to worry. The crew happily provides passengers with professional instructions and all the equipment needed, if you don't have your own, along with complimentary beverages. Fury also has available "reef safe" sunscreen that won't harm the fragile coral reefs.
Parasailing
If getting under the water isn't your thing, how about floating about 300' above it? You'll soar high above the surrounding waters of this tropical island. From this vantage point, don't be surprised if you catch a photo op of frolicking dolphins swimming beneath below. Simply ask the crew to catch this special moment for you.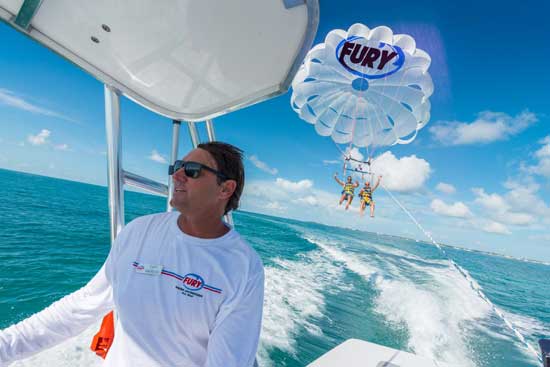 Sunset Cruises
If you're more of the mind to just float along on a beautiful sailing vessel sipping champagne or a fresh margarita while munching on yummy appetizers and grooving to some great island music, Fury sunset cruises are for you.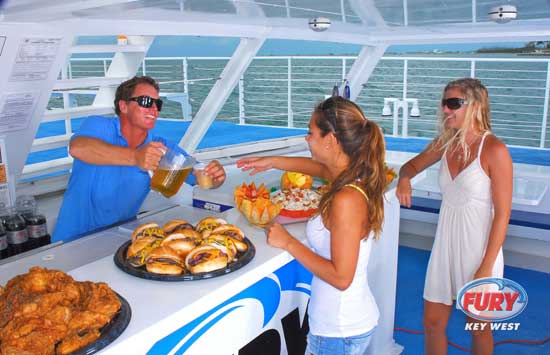 What Are You Waiting For
Enjoy and Explore as we say!....with so many other great options for you to choose from, it's time to get off the couch and head south to Key West! One of the great things about sailing with Fury is that they board and sail from just a little bit down the boardwalk at the Key West Harbor, not even 5 minutes away from Key West Express.
What a better way to spend a few hours of a glorious Key West vacation, either on, under or above the water. Just click below to start booking that much needed getaway!