Florida, America's sugar cane capital, has been home to Cape Coral's own Wicked Dolphin Rum since 2012. 100% Florida sugar and local ingredients are used when handcrafting rum in small batches in an American Copper Pot Still (the largest in Florida). Wicked Dolphin Rum is aged in American White Oak Barrels which previously were used for premium Kentucky Bourbon, for anywhere from 3 to 14 years.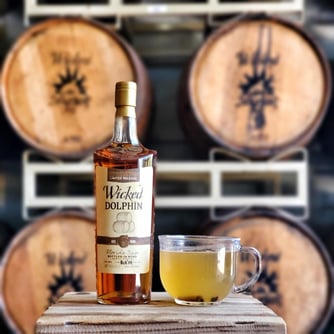 Family owned and operated, Wicked Dolphin Distillery rums have won awards throughout Florida and the Southeastern United States. The commitment to use only local and naturally sourced ingredients make Wicked Dolphin truly "Florida's Rum".
One of the more original limited releases was the Sunken Barrel Limited Reserve. In 2015, a number of barrels were submerged and "aged" for 72 hours, on the sunken, artificial reef of the USS Mohawk, off the coast of Fort Myers in approximately 80' of water. The thought was that at that depth, the surrounding pressure would force some of the barrels whiskey flavor into the already aged rum, thus giving it that special "boost".
Tours of Wicked Dolphin Artisan Rum Distillery, located in Cape Coral, are offered year round. Reservations can be made online at at their website. The tour is really interesting and the tasting even better! Few will go home without a bottle or two…..!
Wicked Dolphin flavors include Spiced Reserve, Silver Reserve and Gold Reserve. Premium flavors include Crystal, Gold, Coconut and Black. The super popular Rumshine is available in Strawberry, Blueberry and Apple Pie.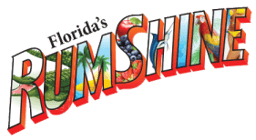 The rum is unique and tasty all by itself but the recipe options are limitless!
Try "Strawberries & Cream". Over ice combine 2oz. Wicked Dolphin Strawberry Rumshine with a splash of Cream Soda…..or "Chocolate Covered Strawberries" Combine 2 oz. Wicked Dolphin Strawberry Rumshine with 1oz White Creme de Cacao.

Their website has recipes available to download for all varieties of their rums. The Perfect souvenir…. A bottle of Wicked Dolphin…recipes attached…and a cool Tervis Tumbler, which they have in their gift shop!
Wicked Dolphin also has fun retail stuff to take home, share and remember your Florida distillery tour.
Photos Courtesy of: Wicked Dolphin