The Key West Garden Club is located at the West Martello Tower, a National Historic site.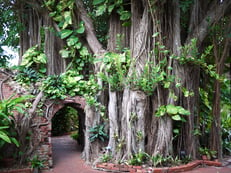 The site was originally built as a protector to Fort Taylor, also on Key West but was rendered obsolete before it was completed. Plans for the site were originally drawn up in 1836, but construction never actually started until 1863. Since the site was never actually used as a fort, it was occasionally used for; target practice by the US military, quartering troops, storage and a military radio station. Over the years the fort had come into severe disrepair and was almost demolished. But, in 1949 the Key West city commissioners stopped the demolition and came to an agreement with Monroe County and the Key West Garden Club to maintain it. In the mid 1970's the grounds and fort were declared a National Historic Site and is now listed on the National Register of Historic Places. The photos here and on their website don't do justice and you truly must see this for yourself. This is one of the island's last remaining free tourist attractions.

One of the most intriguing stories / items at the museum is Robert the Doll. Robert was the boyhood companion of Eugene Otto. What happened to Robert,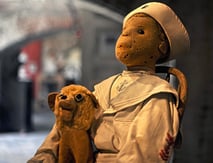 no one will ever know. It is claimed that the expression on the face of the doll will change as the converstation around him proceeds or that he will move on his own throughout the museum. People have also experienced that electronics, cameras, etc. begin to malfunction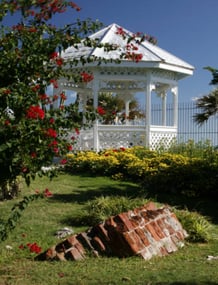 when in his presense.

Today the Tower is still operated and maintained by volunteers of the Key West Garden Club and offers self-guided tours. While the site and gardens are free to explore, donations are accepted and welcomed.
The beautiful gazebo with stunning ocean views and lush tropical gardens are the perfect setting for a fairytale wedding or special event.
The site is located at 1100 Atlantic Boulevard on Higgs Beach, overlooking the Atlantic Ocean.
For this and other great things to do in Key West, make sure that you download our 101 Things To Do in Key West e-book.