Being able to hop in our own car and head off on a moments notice, is one of those facets of life that we all take for granted. We're all a bit apprehensive about leaving "old Betsy" behind and relying on others to get us where we want to go and when.
Key West is a quaint, predominantly pedestrian island that is only about 2 x 4 miles. Parking options in Key West are minimal and can be a time consuming and expensive task. Many side streets are strictly off limits to anyone other than island residents, with those spots coveted almost as much as their boats.
So, reduce your carbon footprint, embrace the sunrises & sunsets of laid back island life with these ideas and suggestions.
FREE:
Walking - In the " Old Town Key West " section of the island (think Duval Street and the surrounding streets), basically from Mallory Square on one side of the island to the Atlantic, on the other side, is about 1.5 miles, walking gives you the most flexibility for shopping, stopping and people watching.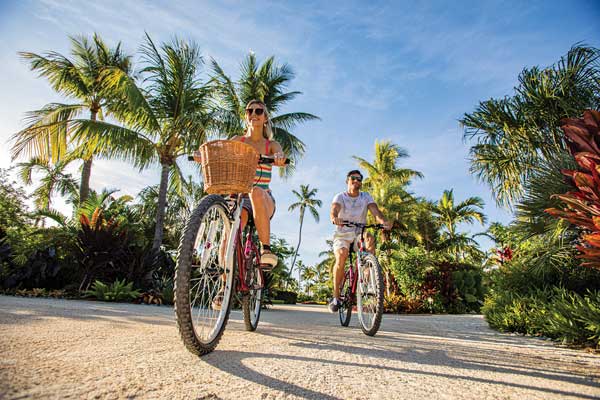 Photo Credit: Tinsley Advertising/Monroe County TDC
Duval Loop - The City of Key West has a free bus service that runs or "Loops" around the historic district. The service is offered daily from 6am to 10am at 30 minute intervals and every 15 minutes from 10am until midnight, with 16 stops. Keep an eye out for the pink Duval Loop signs.
Hotel Shuttles - Some Key West hotels and resorts may have island shuttles. So, check with your resort, if this is an option they offer.
PAID OPTIONS:
Pedi-Cab - Think of a combination of a bike and a rickshaw and someone slowly biking you along your way. This is most definitely NOT the speediest way to travel, but you can also hook up with some of the most interesting "drivers" you'll find anywhere.
Taxi - Ride Share - Traditional taxi service and Uber/Lyft options are available on island.
Moped - Our recommendation here is be VERY careful. Moped accidents are the most frequent incidents on Key West. While they definitely are fun & carefree and look easy to operate, they are not for everyone.
Electric Cars - Think electric "Dune Buggy" to conjure up an image of a Key West Electric Car. This is the option closest to having an actual car on island and you'll most often need to acquire insurance to operate as your regular car insurance may not extend to this type of vehicle. Although a popular choice for island visitors, unfamiliarity of driving around Key West, sight-seeing and keeping an eye out for other cars & pedestrians can be a recipe for an accident.
Bikes - This is by far the most enjoyable and flexible of options. There are very few restrictions where you can stop and lock up your bike as you are exploring. Please be respectful of others though. Residents frown on bikes being locked up on private property and you sadly may return to bike locks being cut off and a bike no where to be found. Bicycles are readily available for rent on the island. Some of the resorts and B&B's also have them available for their guests.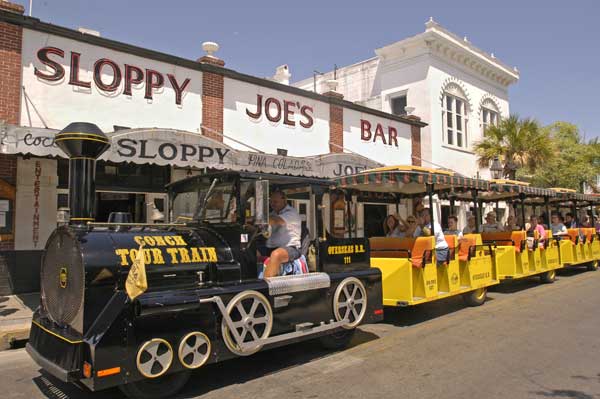 Photo Credit: Bob Krist/Florida Keys News Bureau
Trolley's - There's two options for you here. The Old Town Trolley and the Conch Tour Train. The Old Town Trolley is a Hop-On / Hop-Off tour of the island. Their day pass allows an entire day of use, where you can get off and explore and then continue your exploration later. The other option is the Conch Tour Train. This is a narrated 1.5 hour tour of old town Key West. They offer designated stops where you are able to get off and then re-board as you like at a later time, from the same or any of their other stops. This is an excellent option if you've never been to the island and want to get an informative and fun overview of Key West.
Now that you know how to get around this tropical island oasis, your next task will be looking for things to do in Key West. With the last thing left to do is ....
Hero Image Photo Credit: Piqsels