Nothing says America like baseball and baseball at JetBlue Park, is like stepping back in time.
JetBlue Park and spring training for the Boston Red Sox opened Feb. 25, 2012. JetBlue is designed to mimic Fenway Park right down to the manual scoreboard called the "Green Monster" which features seating both on top of and behind the wall. JetBlue Park and its surrounding Complex capture elements that reflect its Southwest Florida location. Environmentally-sustainable features are incorporated throughout the facility and complex, and the considerable landscaping features vegetation indigenous to the area.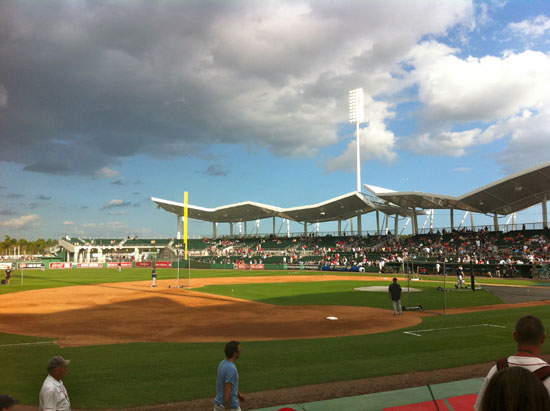 "File:JetBlue Park at Fenway South 6.JPG" by NT1952 is licensed under CC BY-SA 3.0
The Complex provides state-of-the-art training facilities positioned on a single site and is used year-round. It includes JetBlue Park, the main ballpark with a total capacity of approximately 11,000 fans (including standing room and berm), six practice fields, and other adjoining facilities that house both the Major and Minor League operations and a rehabilitation center and training facilities.
The park also serves as a venue for local festivals, circuses, conferences, and many other events. In May, 2013 JetBlue Park was the host site for the final round games of the Florida High School Athletic Association's statewide high school baseball championship tournament.
JetBlue Park at Fenway South has more than 100 acres to accommodate groups of as many as 5000!
So, on your next visit to southwest Florida, make sure that you take in a game. Oh, and if you're a Minnesota Twins fan, their park is just a few miles away, as well.
After taking in a game and need to get away. Take the Key West Express to the southernmost island and have your self a "ball" ! ! !
Hero Image Photo Credit: "First Impressions of Fenway South #RedSox #SpringTraining" by Derek Peplau is licensed under CC BY-ND 2.0