The point of embarking on a family vacation is to get away from mundane daily rituals and devote time specifically for family bonding and making memories that will last a lifetime. So why not choose a journey as adventurous as the destination?
Fun Family Activities
National and international travelers flock to Florida year-round for everything from theme parks to camping. Florida brings to mind a warm climate, clear blue skies, beautiful beaches and shimmering coastal waters. Whether you are traveling from somewhere else or if you already reside in Florida, The Sunshine State has a lot to offer for vacationing families.
If you're looking for a fun family trip in Florida, Key West Express provides ferries from Fort Myers and Marco Island to Key West and back again. The ferry is faster, cheaper and less hassle than flying from the Western half of Florida. It is also a more memorable way for you and your family to travel to your destination.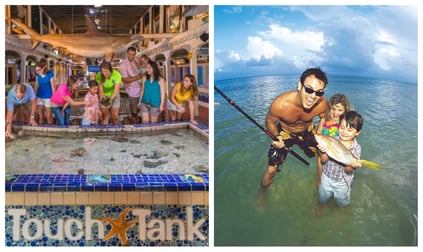 Photo Credit: fla-keys.com
Who wants to spend wasted time in airport lines or traffic jams when you can glide your way through the Gulf Waters to your Key West family adventure?
On-board, spend time relaxing and exploring on one of several sun decks or lounge in reclining airline-style seating while enjoying the interior air conditioning. A full-service kitchen, full-service bar, and flat-screen TVs are sure to keep everyone happy and occupied on the way.
On the ferry ride back from Key West, you can rest and recharge while reminiscing about your successful family vacation.
Caribbean-feel Without Leaving the States
When you think "family vacation ideas in Florida", your first thought might not be Key West. Key West has an infamous history of being an adults-only playground but there are plenty of family-friendly places and experiences to share. There are numerous scheduled dolphin tours and playful encounters - that will delight the old and young alike - historical and whimsical museums, beaches and memories that will last a lifetime at the Mallory Square Sunset Celebration.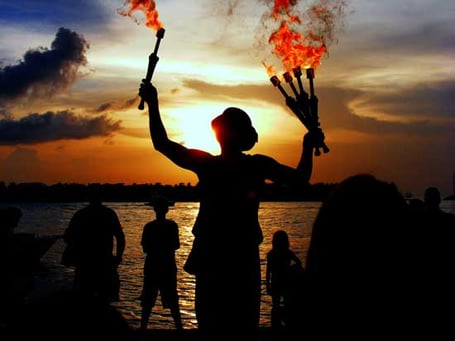 Photo Credit: Pixabay
Sunset Celebration is a nightly arts festival with live entertainment. An extraordinary cultural event for families, it is a staple for the Key West experience. Food vendors will delight your family's pallet while artists, clowns, magicians, local musicians and jugglers delight the eyes and ears.
The Southernmost point of the United States is a laid-back paradise complete with lush tropical plants and native wildlife. It isn't just the climate that reminds people of the Caribbean. From artistic influence to culinary delights, the Caribbean culture abounds in Key West.
Minimal Hassle and Planning
You want a vacation to start the moment you leave the house with as little hassle as possible.
Whether you are leaving from Fort Myers or Marco Island, the time saved in travel is only one of the benefits of riding by ferry. Key West Express offers rates for children and seniors not featured on airlines. Tickets purchased in advance are discounted, as well.
Key West is primarily a pedestrian island (so pack light and bring your walking shoes) but there are also options to rent golf carts or bicycles.
No matter your budget, there are plenty of restaurants and accommodations to choose from and all can be purchased in advance so that your trip is planned from start to finish.
The Journey AND the Destination
Family vacations, like life, shouldn't be only about where you end up. The best parts are also about the path you take to get there. Every smile, laugh and experience make up the moments of your entire trip. The stories of how you got there should always be as entertaining as the stories of what happened when you arrived.
This year, choose to have as much fun and adventure on the journey to and from your vacation destination as you do during your stay. Contact Key West Express to help with a vacation that your family will never forget!
Hero Image Photo Credit: publicdomainpictures.net