Do you need to take a break from your rigorous daily routine? Are you longing to experience a unique vacation in The Sunshine State? A Florida road trip is a great way to clear your head and make memories that will last a lifetime.
The Florida Road (and Ferry) Trip
From camping to the notorious theme parks, people from all over the country – and all over the world – travel to Florida every year seeking warm climate and blue skies. Known for its beautiful beaches and sparkling waters, Florida has been popular with tourists for decades.
Whether you are traveling from outside the state or you are a Florida resident, the Florida Gulf Coast is perfect for a road trip. Driving along the coast, you are sure to enjoy the skyline dotted with palm trees, lush vegetation and amazing scenery.
Stop to feel your toes in the pristine sand at any (or all) of the beaches that stretch the coast. Take a dip in the calm waters or try out some water-sports. Take a walk on the beach, gather seashells and indulge in the freshest Gulf seafood at one of the many beach-side restaurants along the way.
When you get to Southwest Florida, take a break from driving - for a day or for an extended stay - with a stop in Fort Myers or Marco Island to catch the Key West Express. The ferries run from Fort Myers (year-round) and from Marco Island (seasonally) to Key West and back again.

The ferry trip is much faster than the drive time and gives you a chance to let someone else take the wheel while you check out one of the sun decks or relax in the air conditioning in an airline-style reclining seat. Watch one of the flat-screen TVs and enjoy a cocktail from the full-service bar or grab a bite from the full-service galley.
When you arrive at your destination, you'll experience all the best of what your road trip has to offer.
The Adventure
In addition to incredible accommodations and food, while in Key West, there are a number of unique experiences to add to your vacation memories. Dolphin encounters, museums, historical sites…whatever your flavor, this city has something for you.
After your underwater adventures and tours, you can visit the infamous Duval Street. Check out the beautiful Bahamian and Spanish influenced mansions, have a Cuban Coffee or take the train to see the sights.
Listen to some live music and have a drink at one of the local bars then grab a quick bite or enjoy a waterfront meal at one of the many restaurants Key West has to offer.
You definitely don't want to miss the Sunset Celebration at Mallory Square, a nightly arts festival with live entertainment. Party with tourists and locals while enjoying music, food and an incredible view of the gorgeous sunset.
A Laid-back Paradise
No paradise is complete without a unique ecosystem. Full of tropical plants, birds and wildlife, Key West provides a Caribbean-like atmosphere without ever leaving the United States.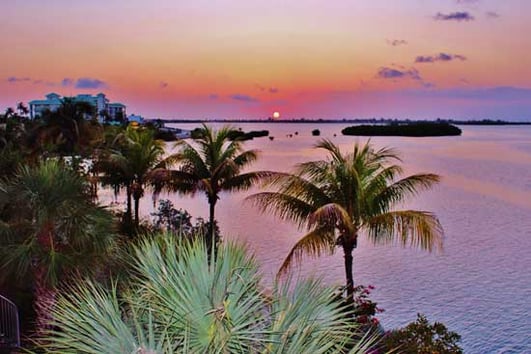 Photo Credit: Pixabay
Laid-back and casual, this island community has art, food, music and accommodations available for any budget. Key West Express ferry customers enjoy discounts at these hotels.
On the Road Again
After you've enjoyed your island adventure and you are ready to get back on the road, traveling back to Fort Myers or Marco Island will be just as pleasurable as the rest of your Key West experience.
You can rest up for the drive ahead or explore the decks for more views of the Gulf waters. Reflect on the experiences that made your trip memorable and look forward to the experiences yet to come.
Maybe you need a leisurely trip with friends or a serious soul-searching escape. Whatever reason you venture on your unique Florida road trip, you are sure to find inspiration on this beautiful coastline.
Planning a trip to Florida? Contact Key West Express to make your travel easier. Drive safely and live greatly!
Hero Image Photo Credit: Pixabay