It's not too SOON to book this popular cruise. Saturday, October 30th, 2021. depart from Fort Myers Beach at 10am and then leave from Key West at midnight!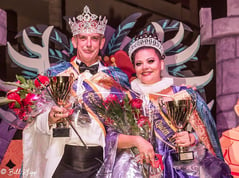 "All Daze for a Holiday"
Can you sing? Avid Karaoke participant? But, you can't carry a tune?? Well, this year is for you. Come out to the biggest, baddest party of the year in Key West. This year's Fantasy Fest theme, All Daze for a Holiday takes your imagination anywhere your favorite game exists. There are limitless possibilities! Let your inspiration guide you as you cultivate your costumed revelry. The possibilities are endless, as will be the fun you're bound to have. So get out your mobile karaoke machine and start practicing.
Fantasy Fest is an annual 10-day party in paradise for grown-ups. Started in 1979 by a small group of Key West locals, the party was created to bring visitors to the island in what was a typically quiet, but beautiful season. It worked! Fantasy Fest has grown every year since its inception and is now the wildest extravaganza around! Fun-loving revelers from around the globe bring their creativity and imaginations as they descend upon Key West each year in October for 10 days filled with costuming, parades, libations, and excitement!
This special cruise gives you nearly 10 hours to experience all that Key West has to offer and the parade is like NO OTHER!
Fantasy

Fest

Parade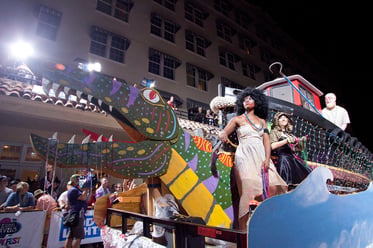 Each year, the Fantasy Fest Parade winds through the world famous Duval Street from the Gulf of Mexico to the Atlantic Ocean. Lavishly decorated floats and costumed revelers entertain tens of thousands of spectators in the premier Fantasy Fest event. With this year's Fantasy Fest Parade, it's set to dazzle and amaze you with creations from the PAST, FUTURE and PRESENT DAY of your imagination!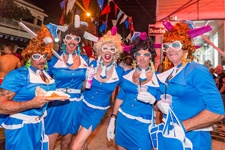 The parade kicks off at 7 PM on Saturday, October 24th and ends in time for you to make your way back to the ferry terminal for your return to reality..
Looking for more great things to do in Key West? Check out all these great things to do all year long.
All Images Courtesy: Fantasy Fest - Key West