October 20 - 29, 2023
What do you get when you combine Mardi Gras, zombies, a parade of dachshunds, Elvis look-a-likes, incredible food and parties by day and night?
FANTASY FEST
Fantasy Fest is an annual 10-day party in paradise for grown-ups. Started in 1979 by a small group of Key West locals, the party was created to bring visitors to the island in what was a typically quiet, but beautiful season. It worked. Fantasy Fest has grown every year since its inception and is now the wildest extravaganza around! Fun-loving revelers from around the globe bring their creativity and imaginations as they descend upon Key West each year in October for 10 days filled with costuming, parades, libations, and excitement!
Yes, Key West has the parties for the most insane of excuses, during these last days of October. How about a BART stroll? Combine BAR's and ART and you have BART. A "self-guided" tour of waterfront watering holes and strategically placed art work, and you have it. A family friendly gathering occurs during the first weekend, in the Goombay Village area - offering food, fun and awesome music. Pool Parties happen almost every day and night, it's just a matter of finding out where they are! There's even a 5k run, if you still have the energy. These and a lot more will surely fill your days and nights, up to and including the final Saturday Night's Grand Parade. You'll just have to use your imagination (or YouTube) to see all the great floats and over the top costumes. Folks work on these all year, hoping to stand out from the proverbial crowd.
For a complete schedule of events, check out their website!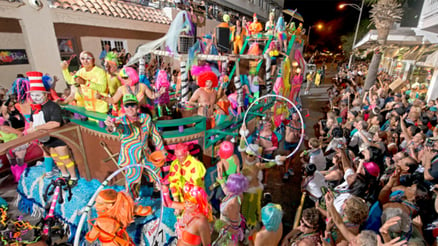 Photo Credit: Fantasy Fest
Looking for more great things to do in Key West? Maybe stay the next week for the start of Meeting of the Minds or the Key West Superboat Races. Check out all these great things to do all year long.
Hero Image Photo Credit: Fantasy Fest