October 20 - 29, 2017
Fantasy Fest is an annual 10-day party in paradise for grown-ups. Started in 1979 by a small group of Key West locals, the party was created to bring visitors to the island in what was a typically quiet, but beautiful season. It worked. Fantasy Fest has grown every year since its inception and is now the wildest extravaganza around! Fun-loving revelers from around the globe bring their creativity and imaginations as they descend upon Key West each year in October for 10 days filled with costuming, parades, libations, and excitement!
For a complete schedule of events, check out their website!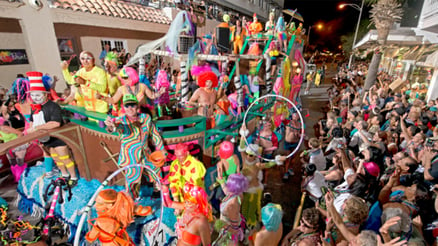 Key West Express is again thrilled to offer our Annual Parade Cruise. Depart from Fort Myers Beach on Saturday, October 28th at 10:00AM, enjoy all the daytime festivities of Fantasy Fest including the night-time grande finale parade, then depart Key West at midnight, arriving back in Fort Myers Beach before sunrise.