Can I go for just one day? ...and the answer is YES ! This wonderful island oasis is a perfect escape for a day or an extended stay. You'll just need to do a bit of pre-planning, so you're not wandering the island aimlessly.... although that can be fun too!
Key West's eclectic and colorful heritage has for centuries attracted great writers, artists, poets and musicians. If you're an art lover, then Key West will certainly be right up your alley.
After arriving in Key West, the first order of business is to grab a good lunch and get energized for your days exploration. Key West is filled with endless yummy food choices for every palette but, just around the corner from the Key West Ferry Terminal are two excellent options. Pepe's Café and BO's Fish Wagon. Pepe's is the oldest restaurant on the island and serves up breakfast, lunch and dinner. Almost directly across the street (you're on Caroline Street) is BO's Fish Wagon. This funky, eclectic, colorful haven is practically an art gallery in itself. Their selection of fresh off the boat seafood is to die for and the sandwiches are served on freshly baked breads and rolls.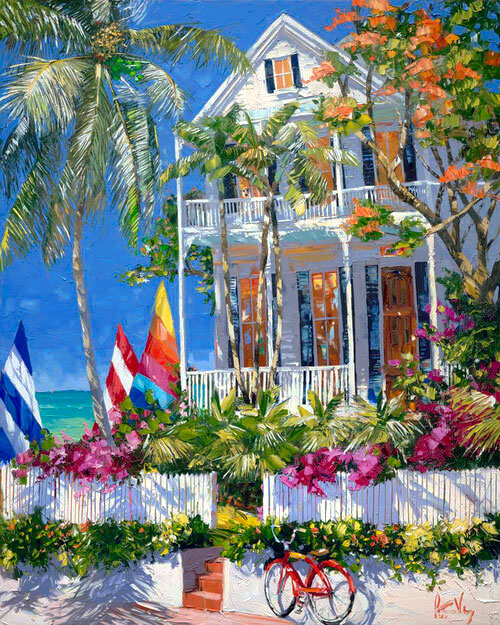 Photo Credit: Peter Vey - Gallery on Greene
Now that you've got some pep in your step, let's head one block over to Greene Street where you can visit three of the more prominent galleries on the island. The Gallery on Greene showcases a wide variety of artists, with an emphasis on local and Cuban masters. Featured local artist Mario Sanchez, was born on the island and was inspired by local characters and the surrounding marine life.
Before your next stop, treat yourself to an entirely different type of art at the store next door, Papa's Pilar Rum Distillery. Named in honor of legendary Key West resident and author Ernest "Papa" Hemingway, you are able to tour, sample and purchase this locally distilled rum.
Continuing on Greene Street, all the way to the end of Front Street is the Key West Customs House. Here you will find the Museum of Art & History. Just look for the massive red bricked, fantastically restored 1800's era building. They host a number of permanent and traveling art exhibitions.
Back onto Greene and only a block away on Whitehead Street is the Audubon House & Tropical Gardens. The foliage on this property was the inspiration and subject of many of John Audubon's paintings and prints.
Courtesy of audubonhouse.org
Believe it or not, it's time to start thinking about a bite to eat and heading back to the ferry terminal for your trip back to Fort Myers Beach or Marco Island. Walking back towards the Key West Harbor, you're sure to find a eatery to your liking. Be it the A & B Lobster House, Conch Republic Seafood Company, Schooner Wharf or Dante's Pool Bar, just follow the boardwalk and you'll soon arrive where you started the day. Back at the Key West Express, for your ride home.
There is so very much to see and do in Key West with something for everyone. We look forward to welcoming you aboard again for your next daytrip or overnight stay.
Three Conchs image credit: Martha dePoo