November 5 - 12, 2023
Each year, Superboat International draws thrill seekers from around the world to this exhilarating, heart pounding offshore racing event that attracts the meanest and fastest boats on the water! Team members and spectators alike experience the roaring thunder of these amazing feats of engineering.
These high powered machines have 2 man crews that maneuver the boats through a 5 mile course at nearly 200mph for an adrenaline charged week of racing! After a day of on-the-water action keeping viewers on the edge of their seats, the water quiets down in the evening so visitors may enjoy the uniqueness of Key West while also having the opportunity to view the boats, engines and crew up close and personal.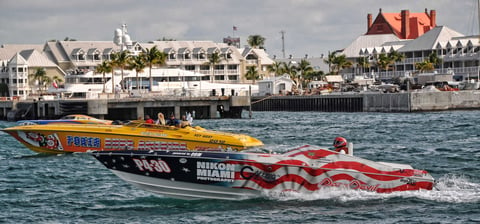 Photo Credit: Pixabay
The Key West Races are the last ones of the year and are the culmination of all the months prior racing and points collected, to crown the annual Champs. They follow the seven race event held north in Clearwater, Florida.
Be sure to visit the Super Boat International page for a schedule of events and a map of the course!
If you or others in your group are not the racing fanatic, then there are many other options for you, in Key West. The island has art museums and galleries that you couldn't visit them all in a whole weeks time. There are museums abounding as well, Try the Hemingway House, the Truman Little White House and Annex or the Butterfly Conservatory. And then there's the food!! Nowhere else will you be as temped as in Key West. The freshest seafood to be found, is right here. Literally, it is only hours from sea to table and the options are too numerous to count.
Looking for more great things to do in Key West? Check out all these great things to do all year long.
Hero Image Photo Credit: Pixabay