126.1 million people visited Florida in 2018, making it one of the premier tourist destinations in the world.
While Florida is widely known for its family-friendly spots like Disney World and Universal Studios, Key West, Fort Myers and Marco Island are premier places for family fun.
Read on for a few fun family vacation ideas to add to your list if you're headed for a Southwest Florida vacation.
Fort Myers, Florida
Located in the Southwest of Florida, Fort Myers is home to gorgeous beaches and wildlife. Fort Myers has several family-friendly activities for you and your whole family to check out.
Pieces of Eight Pirate Cruise
This themed family-friendly adventure aboard a Spanish galleon-style ship offers actors interacting with its passengers as pirates. Song & dance, nautical nonsense and treasure chests provide a fun day for all. Pieces of Eight offers snacks and a full bar for mom and dad.

Photo Credit: Salty Sam's Pirate Cruise
Sun Splash Family Waterpark
Most kids love waterparks, and we're almost sure yours are no different. This waterpark features something for everyone, including those who love action-packed thrilling slides to those who would rather chill out on the lazy river. There's also a Tot Spot for the littlest ones to enjoy the water with mom and dad.
Captiva Dolphin Watch and Wildlife Adventure Cruise
Do your kids love dolphins? If so, this is the perfect way to spot them, while enjoying a relaxing cruise. In addition to dolphins, the crew will point out tons of wildlife and other marine life, and are happy to educate all on board about the area and the animals that live there.
Marco Island
Marco Island sits just south of Naples, Florida, in the southwest corner of the state. Surrounded by gorgeous beaches, there are quite a few activities for families.
Take an Airboat Ride with Wooten's Everglades Airboat Tours
Airboats are popular ways to explore the swamps of Florida and see wildlife and alligators up close. Truly unique to this area of the country, they're a must for visitors from other parts of the United States or from abroad.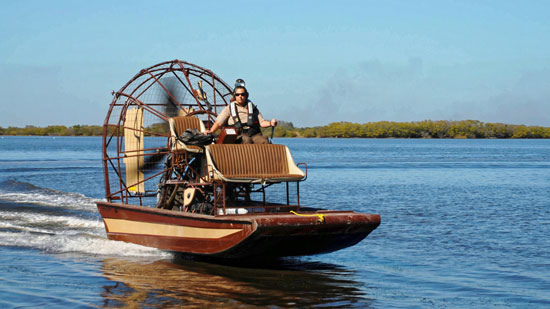 Photo Credit: Piqsels
Wooten's offers an informative ride through the area, with an alligator show afterwards. Kids can even pet a baby gator!
Take a Visit to Keewaydin Island
Only accessible by boat, Keewaydin Island is a completely unique experience. Packed with wildlife, this island is devoid of any boardwalks or roads, making it feel truly untouched. The island itself is only eight miles long and half a mile wide, and features not only gorgeous beaches but also a nature reserve. You and your children can look for gopher tortoises or white-tailed deer as you explore this totally unique location.
Don't worry if you get hungry while you're exploring. There are tons of food boats that often make their way to the island where you can buy some lunch, dinner or a quick snack.
There are very few properties on the island, so your kids will have to prepare to go to the bathroom as nature intended: out in the open.
Collect Seashells
Collect seashells to make crafts or for an awesome collection when you get home. You can go at it alone, or you can take shelling tours to help you find all the best and most beautiful shells. However, you must take care to ensure that all the shells you pick up are empty, as it is illegal to remove wild or live animals from the area.
Key West
Key West is known as Ernest Hemingway's playground, as well as for its unparalleled night-life. But, with loads of gorgeous beaches and activities, there are things for your little ones that don't involve replicating Ernest Hemingway's wild nights.

Key West Aquarium
The Key West Aquarium is one of Florida's oldest. Finished in 1934, the fact that it's older doesn't make it less impressive or up-to-date. It is a bit smaller than many aquariums, but kids will still enjoy petting starfish and sea cucumbers, in the touch tank, as well as looking at a variety of other species that live in the tanks.
Fort Zachary Taylor Historic State Park
Looking for white sand and pristine blue waters? If so, this beach is your best bet for fun with the family. You can also do a guided tour of the fort, if that's something your kids would enjoy.
There's also a grilling and picnic area, so you can chow down on your burgers and hotdogs on a break from enjoying the beautiful waters.
Key West Butterfly and Nature Conservatory
If your kids love nature, especially butterflies, take a trip to the Key West Butterfly and Nature Conservatory. Kids can interact with the butterflies, marvel at the tropical flowers and have fun while watching the flamingos that reside there.

Photo Credit: Key West Butterfly Conservatory
Fun for All Ages
Our article only lists some of the family vacation ideas we have for you. There are many more options to consider while you're in southwest Florida with your family!
Do you want to hit up Fort Myers, Marco Island and Key West during your vacation? Or do you want to jet between Key West and one of the locations? Either way, consider booking a trip on Key West Express. There's a full bar, snacks and dining tables for you to enjoy the 3.5-hour journey with your friends and family.
Ready to get away? Book now!
Hero Image Photo Credit: Piqsels