Key West, Florida is a popular tourist destination known for its sunny beaches, vibrant nightlife, fishing and recreational water activities. While this eclectic resort island offers plenty of paid activities and attractions, there are also so many free things to do in Key West. Known as a creative haven for artists, poets and writers, don't miss the opportunity to visit the many galleries and studios as you explore the island.
Visit Mallory Square
Mallory Square is a famous plaza located on the waterfront in historic Old Town. Every evening, locals and tourists gather to celebrate the sunset over the water where street performers, musicians, and vendors come together to entertain as spectators enjoy the beautiful sunset. While you'll likely be tempted to buy souvenirs or food from the vendors, simply enjoying the atmosphere is completely free.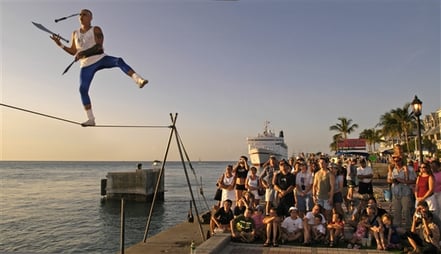 Explore Duval Street
Duval Street is the famous main street in Key West that offers a variety of shops, restaurants, and bars. Even if you're not interested in shopping or dining, walking down Duval Street is a popular fun way to "people watch" and experience the vibrant energy of the town. You'll be able to explore art galleries, see historic architecture, and colorful buildings while entertained by street performers along the way.
Tour the Key West Cemetery
A cemetery may not be the first "to do" on anyone's getaway list or immediately comes to mind when thinking of Key West. But, the Key West Cemetery is actually a popular tourist attraction. The cemetery is known for its unique headstones and humorous epitaphs. Walking through the cemetery is a fascinating way to learn about the history of the town and its residents.

Visit the Southernmost Point Buoy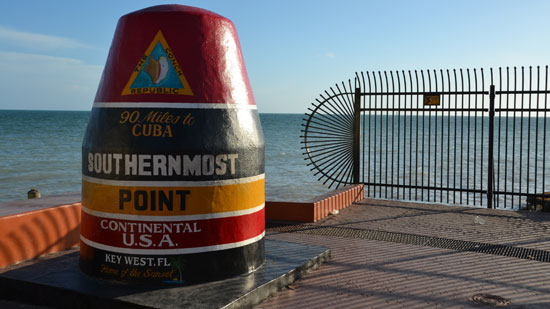 The Southernmost Point Buoy is a public monument commemorating the disputed southernmost point of the continental United States. The island landmark is located just a short way from downtown Key West, a popular spot for taking photos and one of the top ten recognizable landmarks internationally.
Walk through the Key West Botanical Garden
The Key West Botanical Garden is a beautiful outdoor space that showcases a variety of native plants and trees. The garden offers free admission and is a great place to take a relaxing stroll. You'll see butterflies, birds, and even some iguanas as you walk through the peaceful gardens.
Visit the Ernest Hemingway Home and Museum
While there is an admission fee to enter the Ernest Hemingway Home and Museum, you can see the famous six-toed cats that live on the property for free. The cats are descendants of a cat owned by Ernest Hemingway himself. You can see them lounging on the property and even take a photo with them.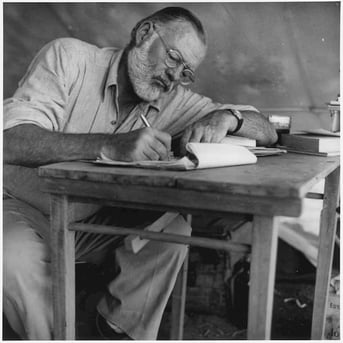 Photo Credit: National Archives
Relax at Higgs Beach
Higgs Beach is a popular beach in Key West that offers free parking and admission. The beach is less crowded than some of the more famous beaches in the area, making it a great spot to relax and enjoy the sun. You can also take a dip in the clear blue water or go for a walk along the sandy shore.
This seven acre habitat, in the Indigenous Park on White Street, is home to a variety of injured and sick wildlife. They are open every day from 11am to 2pm, but accept "new" residents anytime, at their on-site clinic. There is also a nature trail that includes 2 aviaries and a freshwater pond. Making it a fantastic location to watch for migrating birds, in the spring and fall.
While it is free to enter and look around, we encourage everyone to contribute what they can, to this organization, to continue their wonderful work.
In conclusion, there are plenty of free things to do in Key West, Florida. Whether you're interested in history, nature, or simply enjoying the atmosphere of the town, there is something for everyone. By taking advantage of these free activities, you can experience the best of Key West without breaking the bank.
With the Key West Express you can visit Key West and do this and much more. Start your Key West adventure now.