The Key West Songwriters festival is the world's LARGEST event of its kind. The five day music mania begins in early to mid May, with free shows daily as well as some performances requiring reservations. This is THE must do for music junkies! Some of Nashville's greatest talents made their debuts in Key West!
Song Writers Festivals are popping up nationwide however, the Key West Festival is the King Daddy of them all with over 200 performers, 100 songwriters, 50 shows and diverse lineups.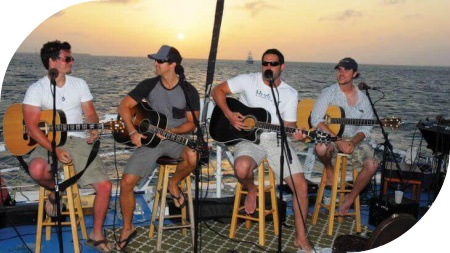 Photo Credit: Fury Key West
Enjoy five days and five nights of entertainment all over the island at some of your favorite watering holes like Conch Republic Seafood Co., The Green Parrot, The Capitana Resort, Sloppy Joes, Margaritaville Café and Blue Heaven… just to name a few. The performances are uniquely diverse and the in last years 2022 line-up of talent, some of the artists were: Chris Young, Ernest, Riley Green, Emily Landis, Blue Foley and many, many more.
Be among the first to hear future award winning songs and artists make their debut on America's southernmost island destination - Key West. America's southernmost city is host to many annual events, festivals and celebrations enjoyed by locals and visitors alike. Performances begin late afternoon and run into the late evening for five days and nights of musical entertainment. Genre's include Country, Blues, Jazz, Folk and Rock & Roll.
The schedule of performances has been posted on the Songwriters Festival website.
Looking for other great things to do in Key West, we've got your covered or if you're ready to make that trip of a lifetime BOOK your Trip NOW.
Looking for more great things to do in Key West? Check out all these great things to do all year long.
Hero Image Photo Credit: Piqsels