Key West is positively a real-life Shangri La! The tiny island is approximately 4 miles long and 2 miles wide however, it can keep a "history nut" occupied for hours, days…..even weeks! Whether your interest is in the original settlers and inhabitants, politics, nature, architecture, famous residents or visitors including poets, writers, singers or pirates and treasures, marine life or quirky culture, Key West will have something to pique your interest.
Early native island residents named Key West "Cayo Hueso", which translated means "Island of Bones", or more commonly referred to as "Bone Island". The island was actually used as a giant graveyard and was scattered with human bones!
The original inhabitants were believed to be Indians who had developed villages and structures on the island. The Calusa's who were known to be peaceful, defended their territory when Juan Ponce De Leon "discovered" the new land in 1513. De Leon's discovery did lead to the 16th century Spanish invasion, though he was not successful in conquering the Indians. Here's a fantastic article detailing some of DeLeon's history in the New World.
A fabulous place for seeking historical details, as experienced and perceived in early Key West life, may be found by reading "A Sketch of Key West, Florida" by Walter C. Maloney. Originally penned in 1876,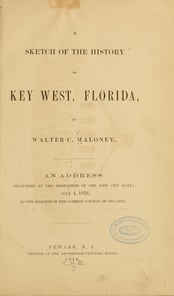 this 88 page essay is filled with fascinating details of what was at the time, the largest city in Florida.
Photo Credit: Floridiana Facsimilie Reprint by University of Florida Press, Gainesville 1968
MORE READING
"Key West; The Old and The New" by Jefferson Beale Browne
Published in 1912, this version, eloquently and respectfully written was begun as a more detailed version of Walter Maloney's documentation of Key West in their era. An archived copy of his work can be found HERE.
FAMOUS VISITORS and RESIDENTS
Key West has been a favorite destination for famous people throughout history including; Ulysses S. Grant, Grover Cleveland, William Taft, Calvin Coolidge, Harry Truman, John F. Kennedy, Dwight D. Eisenhower and post White House visitors were: Jimmy Carter, Bill Clinton and George Bush.
Other famous residents and visitors have included Ernest Hemingway, Tennessee Williams, Calvin Klein, Kelly McGillis, Jimmy Buffet, David Allen Coe, Truman Capote, John James Audubon, Mel Fisher, Robert Frost and Kenny Chesney….. among others.
MUSEUMS
Key West is littered with museums for every imaginable historic interest. Below are just a few of the many that you will find. Some are a bit more elusive than others, but are none the less worthy of investigation.
Key West Art & Historical Society "Custom House Museum"

Flagler Station Oversea Highway Historeum

Lofton B. Sands African Bahamian Museum

Key West Fire House Museum

Key West Cemetery

Heritage House Museum

Florida Keys Museum of Natural History

Oldest House and Garden Museum

Key West Lighthouse Tower and Keepers Quarters Museum

Naval Air Station Key West Visitors Center

Fort East Martello Museum

Florida Keys Eco Discovery Center

Key West Shipwreck Museum
1884 Cartograph of Key West
Video Credit: Bravura Media Company
HISTORIC CUBAN INFLUENCE
During and following the war in Cuba, many fled to America's southernmost city. The Cuban influence can be easily seen in the local culture, cuisine, art, landmarks, music and cigars. Cayo Hueso Y Habana Historeum is a great place to begin your Cuban History Hunt…. but be certain to leave plenty of time, and appetite to enjoy a few of the bevy of tantalizing dining options available. Many restaurants have some historic importance, as well.
ADDITIONAL INFORMATION
Some additional Key West fun facts and history hunter's challenges include locating or visiting;
The birthplace of Pan American Airlines

The oldest restaurant, established in 1909

The oldest island bar

The first known island church/place of worship

The resting place of the cemetery's first guest

Visit in February during the annual Civil War Heritage Days
Read, research and prepare for an exciting adventure….. then book your transportation with Key West Express!
Hero Image Photo Credit: Flip Schulke, Public domain, via Wikimedia Commons