Whether you are in Key West and want to take a trip to the historical Fort Myers for the day or you are in Fort Myers with other vacation ideas (like seeing Key West), you are only a ferry ride away!
Getting There is Half the Fun
Travel from Fort Myers to Key West or Key West to Fort Myers is easier than ever with Key West Express. We provide ferries that glide through the calm Gulf water from Fort Myers (year-round) and from Marco Island (seasonally) to Key West and back again.
Forget wasted time spent in long airline lines or cramped accommodations. Ferry travel is faster, cheaper and less of a hassle than flying and it is certainly a more memorable way to travel.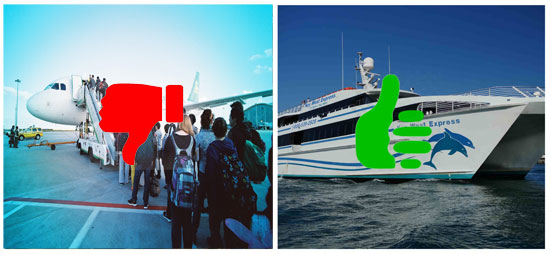 Photo Credit: Piqsels and Key West Express
On-board the ferry, relax on one of several sun decks or lounge in reclining airline-style seating while appreciating the interior air conditioning. You will also have access to a full-service galley / bar, and flat-screen TVs with satellite service.
After you've enjoyed your day trip, the ferry will take you back to your original starting point.
Fort Myers: Vacation Ideas
Also known as the gateway to Southwest Florida, Fort Myers is rich with historical landmarks and full of exciting vacation ideas. With breathtaking Gulf sunsets on the beach and a variety of activities and experiences (ranging from shelling and kayaking to water-parks and museum attractions), it is a prime destination for a day trip.
Located in Fort Myers is the nation's largest undeveloped mangrove ecosystem, J.N. "Ding" Darling National Wildlife Refuge, and is home to 400 species of birds.
Another great attraction: Mound House. Sitting on a Calusa Indian shell mound that is 2,000 years old, Mound House is a popular archaeological site for tourists, and you shouldn't pass up the Calusa Nature Center & Planetarium.
History buffs also won't want to miss Thomas Edison and Henry Ford's winter escape!
Depending on which season you are traveling, you can watch an MLB Training Game or attend ArtFest…but no matter what time of year, you can check out cool bars and live music.
Even if you traveled from Key West to spend the day, you still have time to have a thrilling experience on the Murder Mystery Dinner Train or dine at any of the delicious restaurants before heading back to catch your ferry to your starting point.
Key West
The Southernmost point of the U.S. is a paradise destination complete with lush tropical plants and native wildlife. From artistic influence to culinary delights, Caribbean culture is embedded in Key West.
Join a scheduled dolphin tour, visit historical sites and museums, take your picture with The Buoy or enjoy one of the many other adventures the island has to offer.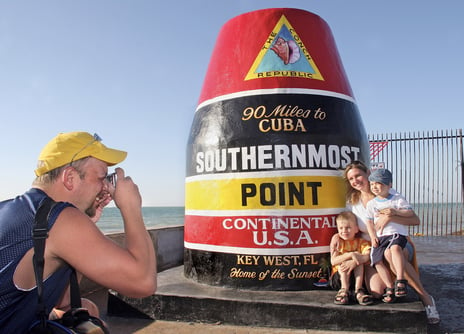 Photo Credit: Rob O'Neal/Florida Keys News Bureau
Key West is primarily a pedestrian island (so wear your walking shoes) but there are also options to rent electric carts, take a train ride or tour the city on bicycles.
Operating since 1958, The World-Famous Conch Tour Train is an immersive tour experience through 400 years of Key West history. One of Florida's most popular attractions, it offers riders the chance to climb to the top of a 65-foot observation tower at the Shipwreck Treasure Museum.
After a full day of adventure, there are plenty of choices and locations on the island for food, drinks and entertainment. If you are visiting Key West from Fort Myers, then you should indulge before you head back to the ferry for your return trip.
The Journey Home
Normally, the longest part of a day trip is the drive home after all the fun-filled excitement of the day. By adding ferry travel to your day trip, your journey home will be as fun and fulfilling as your vacation! You can relax and recharge or continue the party… The choice is yours.
Get started on the path to new memories that will last a lifetime. Contact Key West Express for your water-travel needs today!
Hero Image Photo Credit: Pixabay